Apple's 2013 iPhone Event Roundup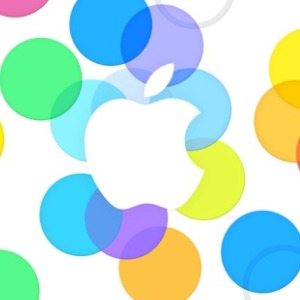 Well, another high-profile Apple event has come and gone. And much like the pomp surrounding every one of these keynote addresses comes the all too familiar tradition among the public to speculate wildly about what these cool new toys mean all of us.
iPhone 5S
Before we get to the rampant speculation, what went down this afternoon? Whether you're an Apple devotee or just a casual smartphone user, it's probably been obvious for some time now that Apple's newest version of the iPhone, announced today as the iPhone 5S, was going to dominate the event. And that's exactly what it did. The new iPhone, which will still start at $199 for the 16GB model on contract, will come in three different colors: gold, silver and "space gray". It comes with a few cool new features as well: the world's first 64-bit mobile phone processor, updated camera with Apple's TrueTone flash, and their long-awaited fingerprint sensor Touch ID.
But aside from all that, the iPhone 5S isn't really much different from the iPhone 5, and its features don't feel like huge steps forward either. The real reason to buy the iPhone 5S is the same reason people have been buying iPhones for years now: the fluid performance and one of the best smartphone cameras money can buy. With a new A7 CPU, support for OpenGL and a better camera, these are still the best reasons to pick one up.
iPhone 5C
On top of that was the announcement of Apple's midrange mobile phone model, named the iPhone 5C (which we assume stands for 5 "color"). Starting at $99 for the 16GB model and $199 for the 32GB model under contract, this is basically Apple's way of exploiting a market of consumers who want the iPhone brand name but are willing to accept an older A6 processor, polycarbonate shell, and no fingerprint sensor. It's made of cheaper materials, but it has the insides of last year's iPhone 5.
Phones like the iPhone 5S and the iPhone 5, which are built from glass and aluminum, can't really see much of a price cut once the company introduces new phones. Even if they're replaced some day by an iPhone 6 or iPhone 6S, the phone's shell materials are a major expense. So having a plastic-shelled iPhone 5C, one that will probably get some internal boosts every year, will allow Apple to create a major presence in the low-end consumers market without needing to spend boatloads of money on materials. It's a smart move on Apple's part, but we'll have to wait to get our hands on it before we know how it feels to hold a plastic iPhone.
The iPhone 5S and 5C will be replacing the iPhone 5 altogether, while the iPhone 4S will now be sold for free with a two-year contract. Both the 5S and 5C will be available for purchase in store on Sept. 20—meanwhile, the pre-orders for the 5C begin on Sept. 13.
iOS 7
Apple showed off its new mobile operating system back at their annual Worldwide Developers Conference last June, so all that was left for Apple to do today was release it. Senior designer Jony Ive, who suddenly thrust into the role of rebuilding the entire design of Apple's mobile operating system after an internal shakeup, created a beautiful display that will start rolling out for free on Sept. 18. Expect a simple new interface, updated Siri, Instagram-esque photo editing features and more. iWork, iPhoto, iMovie, Keynote and Pages will be free on all new iOS 7 devices as well, which is terrific news.
Odds & Ends
Despite iOS 7 rolling out next week, Mavericks apparently isn't quite ready for an official release just yet. Recent news told us as much, since it appears that Apple was strapped for both time and manpower, and decided to focus its energy on ensuring that the new iPhones would have a new OS ready on time.
The MacBook Air already got an internal refresh in June, so there's nothing new to speak of on that front. There were some grumbles after the Worldwide Developers Conference in June when the MacBook Pro was not refreshed with the same Intel Haswell processor as its low-end Air sibling. After another event without any announcements on the Pro getting a Haswell processor of its own, you can expect the grumbles to start turning into a bit of a roar among eager professional users who have been anxiously sitting on a new Pro announcement. Guess we'll have to wait until October.
For the iPad, it seemed almost assured that we wouldn't be getting any update until some time in October at the earliest. But the past few weeks gave us plenty of third-party photos showing a new iPad with a giant, 12.9" screen. Nothing materialized today, however. Expect an iPad-exclusive announcement later next month.
Apple TV and the highly anticipated iWatch didn't receive so much as a passing mention today, although it's clear that Apple wants as much attention on their two new iPhones as possible.
Elvis Costello wrapped up the media event with a couple songs. If it weren't for him, this would have been one of the shortest special events in Apple's history.
So what did today's media event mean? For the most part, it really didn't show us any goodies that haven't been hinted at or completely exposed in the past few weeks. CEO Tim Cook asserted at All Things D last year that Apple would be doubling down on preventing leaks, but everything leading up to this year's special event showed an almost complete disinterest toward maintaining secrecy. There were photos, videos and third-party sneak-peeks popped up along nearly every step of the company's iPhone supply chain.
Admittedly, high-profile companies like Apple will always face the task of sweeping up a couple damaging leaks here and there, but today's event was practically placed in our laps weeks ago. And yet, from what we saw leading up to the Worldwide Developers Conference earlier this summer, Apple knows how to withhold sensitive information about their new products if they really want to. You may recall that the WWDC earlier this summer brought us the new Mac OS 10.9 Mavericks, a massive iOS 7 overhaul, MacBook Air refresh and drastically redesigned Mac Pro with virtually no concrete information to spoil the announcement ahead of time. So what gives?
The answer is that Apple's special event today was all about new iPhones and considering we had already seen iOS 7, that's not much. That said, Apple has two new incredibly well-positioned products that people will stand in like for—and in the end, that's what matters.
Got news tips for Paste? Email news@pastemagazine.com.
Others Tagged With