Philomena (2013 TIFF review)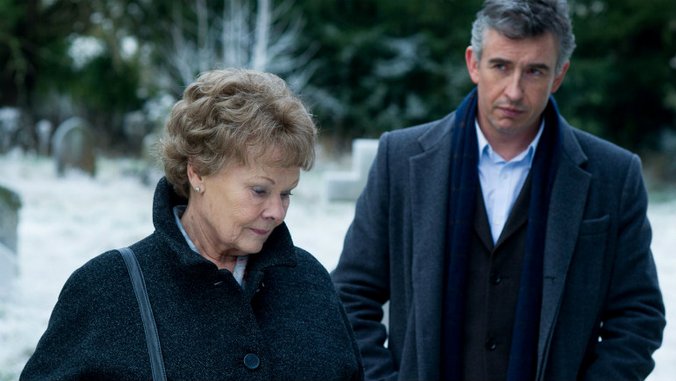 Philomena is an odd, engaging mix of genres that we tend not to see coexisting in the same film. The latest from director Stephen Frears (The Queen, The Grifters) is a buddy movie, a detective story, a heart-warmer, a takedown of the Catholic Church and an exploration of mortality and redemption. If all that wasn't enough, the movie is also based on a true story.
Judi Dench plays the title character, Philomena Lee, a retiree who has never forgotten her son, Anthony, whom was taken away from her when she was a teen. Growing up in a convent in Ireland in the 1940s, she got pregnant at 18 and then was pressured by the local nuns to send the child away to be adopted. Now in her 70s, Philomena has long ago lost any trace of her son's whereabouts, but she catches a break when she's introduced to Martin Sixsmith (Steve Coogan), a British journalist and Labour Party communications director who was fired in 2002 under a cloud of controversy. Martin insists he did nothing wrong, but his protestations don't matter much when he's trying to get back on his feet and find a new gig. Philomena's incredible tale sounds to Martin like fodder for a great story, although this serious journalist is somewhat embarrassed by the fact that he's lowering himself to write a human-interest piece.
Soon enough, though, he would discover that he'd get much more than an article out of the experience. Based on Sixsmith's book The Lost Child of Philomena Lee, Philomena would seem to have all the makings of a dark, investigative piece—we find out what happened to the boy in full—but the resulting film is unexpectedly funny. This is thanks to Coogan, who co-wrote the screenplay with Jeff Pope and adds just the right sardonic streak to his performance as Martin. What makes the movie such a droll time is that Martin, while polite, is somewhat condescending to the happily unsophisticated Philomena, this sweet old lady who reads trashy airport novels and is delighted by the simplest of things, like complementary hot-and-cold hotel buffets. Martin's prickly, snotty superiority and Philomena's guilelessness prove to be an endlessly enjoyable combination: It's as if Dr. Gregory House and Jessica Fletcher decided to solve crimes together.
Proving to be a good sport, Dench gives a precise performance as the square, adorable, occasionally exasperating Philomena. Unlike the more gently geriatric goings-on in The Best Exotic Marigold Hotel, Philomena is less sentimental in its depiction of the fears and regrets that can weigh heavy on the elderly. Philomena is of relatively sound mind and body, but she's burdened by regret for her lost child, compounded by her lingering Catholic guilt about the premarital sex. Her journey to find her son is, in a sense, also a coming to terms not just with that long-held shame but also with the totality of all of her actions. Philomena may come across at times as just a doddering old woman, but Dench allows those more poignant realizations to surface, suggesting how the person we see at the end of her life only hints at the complexity of an existence.
Philomena is likable and twisty as Martin and Philomena track down Anthony, but oddly the film isn't a particularly riveting experience, its observations merely mild and its discoveries a little underwhelming. The characters' quest takes them from the U.K. to Ireland to Washington, D.C., but Frears' stripped-down style (usually a strength of his) actually undersells the ending. A filmmaker known for his modesty and good taste—screenwriters love how faithful he is to their scripts—Frears made a daring choice by finding the humor in such potentially sorrowful material. But the lack of urgency results in a somewhat anticlimactic finale that doesn't deliver the emotional punch one would expect or that Philomena deserves. Still, Martin and Philomena are a hoot to be around: Like a lot of road trips, Philomena is a case where the getting there is more than half the fun.
Tim Grierson is chief film critic for Paste. You can follow him on Twitter.
Director: Stephen Frears
Writers: Steve Coogan, Jeff Pope (screenplay); Martin Sixsmith (book)
Starring: Judi Dench, Steve Coogan, Sophie Kennedy Clark, Charles Edwards
Release Date: Screening at the 2013 Toronto Film Festival
Others Tagged With