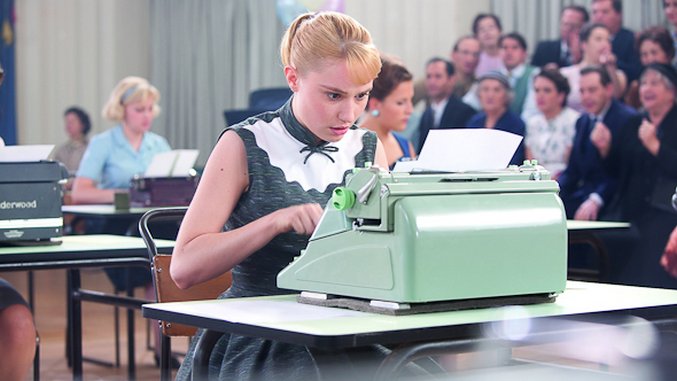 In 1958 Normandy, unwitting feminist Rose Pamphyle (Déborah François) aspires for more than marrying the mechanic's son and sets her sights on the most glamorous job a young woman could dream of: being a secretary. She's inexperienced, disorganized and absent-minded, but she can type—the bare minimum requirement for a post with insurance agent Louis Échard (Romain Duris). Rose pecks at the keyboard with such two-fingered zeal that Louis can't resist, and a French rom-com is born.
First-time feature helmer Régis Roinsard plants Populaire firmly in the milieu of 1950s France, a period on the cusp of the women's movement and an era that saw the rise of teen consumerism and sports sponsorship—a perfect storm for the rise of speed typing, a real-life phenomenon at the center of Roinsard's confection. She may be terrible at her job, but Louis sees something in Rose if she can learn to type with 10 fingers: a world champion.
It's not initially clear why Louis wants Rose to enter competitive typing—there's no previous indication that he's particularly invested in the sport. And late in the film when he starts overtly referring to helping people, it feels like the script is shoehorning his motivation. But eventually, it's revealed that he's an athlete with daddy issues in love with his best friend's wife, and it all becomes clear why Louis wants so badly for Rose to succeed—even at the expense of their budding romance.
From the '60s-esque animated opening credits to Charlotte David's immaculate costumes and a plucky period soundtrack, Populaire pays homage to the genre while bringing a modern sensibility (and a Rocky-esque training montage): A girl can have it all, especially when she's portrayed by the enchanting, apple-cheeked François.
Meanwhile, Bérénice Béjo (The Artist) co-stars as Louis' first love, Marie, injecting some rich, bittersweet depth beneath the movie's candy-coated shell. Louis' deal is complicated and subtle, but Béjo makes it plain and poignant in the movie's soberest scene.
Colorful and kinetic, sweet and satisfying, Populaire ties even the plot's few stray, frayed threads into a bow as perky and pink as the one on Rose's championship dress.
Director: Régis Roinsard
Writer: Régis Roinsard, Daniel Presley, Romain Compingt
Starring: Romain Duris, Déborah François, Bérénice Béjo, Shaun Benson
Release Date: Sept. 6, 2013
Others Tagged With