Pussy Riot Member Nadezhda Tolokonnikova Goes On Hunger Strike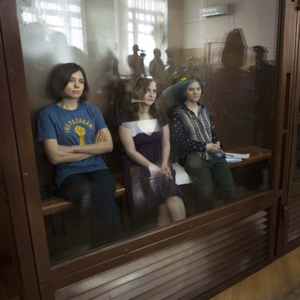 Jailed Pussy Riot member Nadezhda Tolokonnikova says she will go on a hunger strike to protest the "slave labor" in her penal colony, according to a report from Reuters.
Tolokonnikova was sentenced to two years in prison in August 2012, along with her bandmates Yekaterina Samutsevich and Maria Alyokhina, for performing a "punk prayer protest" at a cathedral in Moscow. The Pussy Riot members were thrown in prison for "hooliganism motivated by religious hatred." Yekaterina Samutsevich was released last year on appeal. Alyokhina went on a hunger strike herself over the summer when she was denied from attending her parole hearing. She was hospitalized in May and ended her protest when prison officials agreed to meet her demands.
In a letter being circulated by her husband Pyotr Verzilov, Tolokonnikova said "Beginning September 23, I am going on hunger strike and refusing to participate in colony slave labor." She claims that inmates are forced to work 17 hour days sewing police uniforms and that the inmates rarely get more than four hours of sleep. Tolokonnikova described the conditions as being comparable to a Soviet Gulag: "Your hands are pierced with needles and covered in scratches, your blood is all over the work table, but still you keep sewing."
Nadezhda Tolokonnikova and Maria Alyokhina are set to be released in March.
"I will do this until the administration starts obeying the law and stops treating incarcerated women like cattle ejected from the realm of justice for the purpose of stoking the production of the sewing industry; until they start treating us like humans," Tolokonnikova said.
Got news tips for Paste? Email news@pastemagazine.com.
Others Tagged With