Recap: Gentlemen of the Road - Troy, Ohio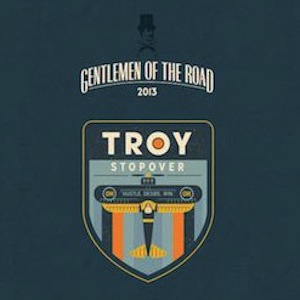 The Gentlemen of the Road Stopover tour has everything anyone could want in a music festival: culture, community, soulful music and, of course, quality beer. But what makes these gentlemen distinctive from other festivals is the intimacy. Nothing should make you want to shut off your smart phone and social networks like seeing your favorite bands, and in a place with strong ties to the golden years of aviation—Troy, Ohio—"airplane mode" takes on a whole new meaning.
Hosted by folk-rock phenomenon Mumford & Sons for the second time, GOTR Stopover tour, besides decorating small towns like Guthrie, Okla. and St. Augustine, Fla. with giant mustaches and top hats, brings thousands of people together in an inclusive celebration of community through exploration, and obviously, live music.
The two-day festival kicked off in the streets of Troy, Ohio on Friday, Aug. 30 with indie rock artists Half Moon Run and Willy Mason on the main stage followed by Phosphorescent with an infectious set of tunes from fantastic recent release Muchacho.
Adding to the first evening of the stopover's honest, positive atmosphere, Alexander Ebert, became his alter-ego, convincing everyone that we were actually in a 1960s California commune as frontman for Edward Sharpe and the Magnetic Zeros. During their ubiquitous hit "Home," Ebert and Jade Castrinos asked the crowd what their stories were, giving fans an intimate experience of a lifetime.
Saturday started early with English folk-rock artists Bear's Den, Nashville sister act Those Darlins, Brooklyn indie-dance group Rubblebucket and singer-songwriter Justin Townes Earle. As the sun began to set and the party raged on, London-based indie-rock band The Vaccines killed it in the light rain with wild drumbeats and downright danceable guitar riffs before energetic folk band Old Crow Medicine Show took the stage to rattle the hillbilly bones in a crowd of Buckeyes.
There's just something about a harmonica's tune—specifically frontman Ketch Secor's—that makes you feel like you're sitting in a rocking chair on a porch with a mason jar of sweet tea at home with 27,000 of your closest friends.
Despite the fact that a fair volume of people tie OCMS with their catchy southern croon "Wagon Wheel," their on-stage party was contagious and their talent was undeniable. Even people who weren't necessarily there to hear country-folk music couldn't resist jumping around like their prized hog just won a blue ribbon at the county fair. And that takes an impressive amount of stamina.
"I can't imagine anything more beautiful in the world than this moment right now," Secor said before finishing the set.
The next half-hour was tense. Small lights hung from the top of the performance stage and were strung down to the sound stage, standing in as stars in the otherwise starless sky until the moment everyone had been waiting for. The first notes of Mumford & Sons' "Lover's Eyes" reverberated in darkness, haunting the venue. The next two hours are hard to describe, as Mumford & Sons gave just the kind of foot-stomping, soulful performance for which they've become known. When thousands of people are all singing along with Mumford, "You are not alone in this," it's hard not to believe it. The band created a particularly profound moment in time when Bear's Den, The Vaccines and Old Crow Medicine Show joined the stage, honoring their inclusive reputation and bonding tense of thousands of people together for an unforgettable live music moment.
One would think after two days of screaming and dancing on a hot summer day, everyone would be too exhausted to jam to Yacht Club DJs immediately after an incredibly inspirational set by Mumford & Sons. But that's not how the Gentlemen of the Road do it – the pit turned into a straight-up night club (Marcus Mumford himself joined the DJs on the drums) and the town of Troy lit up like a little London.
The Gentlemen of the Road came, sang and conquered – following through with their goals to explore and indulge in the quirks offered by a small town rich in culture.
"This isn't about us. It's about the bands. It's about you guys," Mumford said from the stage. Who's to say if this humbleness and dedication to music community is just a show? Regardless, it's a damn great one.
Got news tips for Paste? Email news@pastemagazine.com.
Others Tagged With