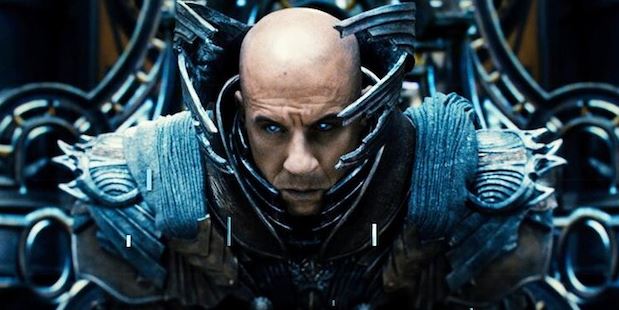 Pitch Black (2000) and its sequel, The Chronicles of Riddick (2004), the first two chapters in the adventures of anti-hero Richard B. Riddick (Vin Diesel), provided a surprisingly satisfying one-two punch. In fact, in terms of sci-fi two-fers, the films occupy a rung just beneath that occupied by the tri-partite franchise pantheon of the Alien, Terminator and Star Wars films. Director David Twohy's first two Riddick movies bear comparison to the Alien franchise more than any other. In both cases, the sequels shifted genre after an initial, well-received atmospheric gem of sci-fi horror. (Granted, Alien was a genre-defining classic, Pitch Black a smaller, acceptably derivative guilty pleasure.) But whereas Aliens shifted slightly to gritty sci-fi actioner (space marines!), The Chronicles of Riddick went full-blown space opera (necro…mongers?). Riddick's second trip to the silver screen may not have performed as well as Ellen Ripley's at the box office (or in critical reception), but Chronicles likely lost more than a few viewers (and critics) thanks to this abrupt switch in genre. Nonetheless, its pulp take on a Space Age Conan (Riddick the Barbarian?) boasted Grade A quippy threat banter and a forward-rushing plot that kept the viewer engaged from start to finish.
Unfortunately, as anyone who has seen Alien3, Terminator 3: Rise of the Machines or even Return of the Jedi can attest, the third film in even the strongest series can stumble, and the third live-action installment of My Favorite Furyan stumbles plenty. Though there's no one clear culprit, the absence of a tightly constrained, furiously paced story arc couldn't have helped. Ultimately, Riddick is a perplexing result for a 'til-now dependable recipe: the ingredients, cooks and kitchen are the same, yet the dish that results is not nearly as tasty.
Twohy's film opens with a Riddick who's buried, bloodied and somewhat broken. In the leisurely paced sequences that follow, the audience gets plenty of voiceover-assisted insight into how he got there and how he'll set about becoming less so (including the sort of montage usually reserved for plucky underdogs in sports films).
Eventually, when Riddick wants off the planet, he does what any reasonable castaway would do, summoning a passel of bounty hunters anxious to collect the price on his head. With the arrival of two separate crews (the one with the criminally underutilized Katee Sackhoff and the one without), Riddick assumes a stance more familiar to fans of the first two films—that of an elusive killing machine. Eventually, of course, the group will have to work together to avoid being eaten (a common hazard on planets in the Riddick universe, it seems).
Yet despite having so much in common with Pitch Black, this latest batch of unfortunate events doesn't hold together as well as its predecessors. In part, this can be attributed to a puncturing of the protagonist's mystique. Simply put, Riddick talks too much, and despite myriad moments of classic badassdom, the character is shown weakened and vulnerable so often one suspects it may be meant to serve as the type of big-picture character development pulp protagonists are, frankly, better off without. As a result, Riddick lacks the punch of Twohy and Diesel's earlier efforts.
Still, with a budget of only $38 million—a fraction of what studios are blowing on effects-heavy sci-fi these days—Riddick will likely prove a profitable, more sincere brand exploitation than the recent remake of Evil Dead. It might even make enough to justify a fourth film concerning the life and times of Richard B. Riddick, Furyan at Large. Maybe next time, these heretofore dependable pulp ingredients will yield a better meal.
Director: David Twohy
Writer: David Twohy
Starring: Vin Diesel, Karl Urban, Katee Sackhoff
Release Date: Sept. 6, 2013
Others Tagged With