Rotten Tomatoes to Expand 'Fresh' Rating System to Include TV Shows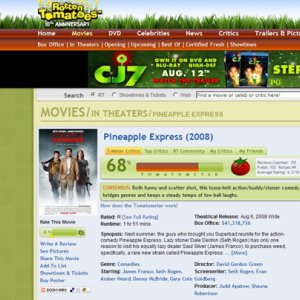 Starting tomorrow film review aggregator Rotten Tomatoes will expand its reach to television with "TV Zone," a new incarnation of the website's popular Tomatometer system. The Tomatometer, which collects critical reception of movies in order to provide a percent 'fresh' or 'rotten' rating for each film, will begin to do the same with individual seasons of TV shows, reports Variety. The TV Tomatometer will cover scripted series and, according to Rotten Tomatoes editor-in-chief Matt Atchity, the website will "go back to the beginning" of current television series to retroactively assign ratings to shows that have already been around for a few years.
To be considered fresh, a single film or a season of a TV show must receive at least 60 percent positive reviews. Anything short of 60 percent will give the work a 'rotten' rating. When asked if the new TV meter will ever measure the critics' consensus on individual shows, Achity said the site might be open to some tinkering."If reviews go extremely negative then we may change it as the season goes on," said Achity, who cited NBC's Smash as an example of a show that tanked following early critical approval.
The television renaissance of the past few years has resulted in a huge increase in the depth and seriousness with which audiences and critics alike are analyzing popular scripted shows. With this surge of critical writing on today's programs, Rotten Tomatoes should be in an excellent position to start gathering the collective knowledge of television's Golden Age.
Got news tips for Paste? Email news@pastemagazine.com.
Others Tagged With