The Mindy Project Review: "All My Problems Solved Forever" (Episode 2.01)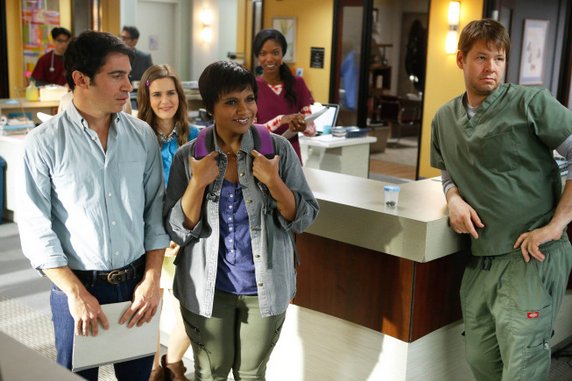 It usually takes new series a while to find its legs, but The Mindy Project has had a much harder time than most. For the first season, The Mindy Project had to deal with a constantly shifting cast as actors kept leaving, making it somewhat hard to create meaningful arcs for secondary characters, which the show has an abundance of. With the exception of Mindy and Chris Messina's Danny Castellano, characters rarely had any defining characteristics beyond either being a delivery system for funny lines or a potential short-term romantic prospect.
But most of all, The Mindy Project's first season just felt too light. There never seemed to be any sort of stakes or forward momentum for the majority of the season. While the first episode of The Mindy Project's second season, "All My Problems Solved Forever," sets up obstacles for Mindy and company to overcome, it's clear that the show is mostly just focusing on returning things to business as usual.
In the premiere, we find out that Mindy has been in Haiti for six months, not missing New York and building hospitals with her boyfriend Casey. When Mindy has a medical emergency, she is airlifted back to New York for surgery (Really? The closest place to Haiti for an operation was NYC?) and thrown back into the mix of her OB-GYN office. Besides Dr. Reed gaining some pounds from stress eating bags of cheese, not much has changed, except that her replacement, Dr. Paul Leotard—played by James Franco—has become the new Dr. L that everybody loves.
The Mindy Project always works best when Mindy and Danny are playfully bantering with each other, clearly interested in each other, so in this first episode they are placed in situations that still block them from each other. Mindy is now engaged to Casey and after a botched low-key wedding, Casey moves back to Haiti, while Mindy stays behind to make money for the wedding of their dreams. Danny is now back with his former love, Chloë Sevigny's Christina, but he'd rather spend his nights Googling porn and "topless Rita Moreno" instead of being in bed with her. It's clear both of these relationships are headed for disaster, placing Mindy and Danny right back where they need to be.
Which gets back to the lack of stakes. They're there, but just barely. Even the inclusion of Mindy's replacement doesn't feel that drastic. She's currently in New York with no job and a boyfriend thousands of miles away, but in a few weeks it's pretty clear that she will have her job as soon as James Franco leaves the show for whatever weird art project tickles his fancy this week, and that her engagement will likely fall apart to allow her the opportunity to ogle the next male comedian that crosses her path.
That being said, even after the mass exodus of characters in the first season, The Mindy Project still has one of the best comedic ensembles on TV. Kaling and Messina especially are always charming and Ike Barinholtz is a wonderful scene-stealer. They even have a great gift with guest stars, as is proven once again with Franco, who pokes fun at himself as the new doctor who basically can do anything.
But while its humor and charm got The Mindy Project through its first season, how far can it take it into its second? The laughs are usually consistent and the characters are enjoyable, but without a ton of depth or much of a clear outlook on where the plot or characters are going, the strings holding The Mindy Project together might not hold.
Others Tagged With