American Beauty: Dogfish Head's Grateful Dead-Inspired Imperial IPA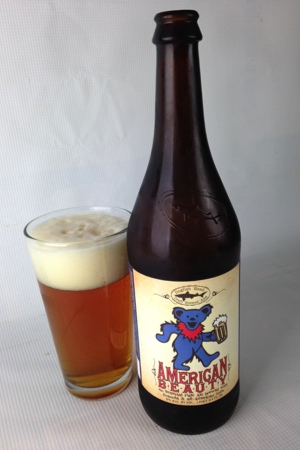 Sam Calagione is something of a rock star in the beer world. The founder of Dogfish Head Craft Brewed Ales was working in a bar when he decided to start making his own beer. He's been featured in the documentary Beer Wars and starred in a Discovery Channel series Brew Masters. He's based beverages off residue from a 2,800-year-old chalice in the Tomb of King Midas, 9,000-year old Chinese pottery and one based on ancient Egyptian hieroglyphics. Dogfish Head has added juniper berries, blue-green algae and, most recently, moon dust to its beers.
As the Delaware breweries motto proclaims, they make "off-centered ales for off-centered people." So a Grateful Dead-inspired beer only makes sense.
American Beauty is not the first musical beer in the Dogfish Head line-up. The brewery has released beers honoring Bonnie "Prince" Billy (Sixty-One), Miles Davis (Bitches Brew), Pearl Jam (Faithfull Ale) and Dan the Automator (Positive Contact). The brewery even hosts an annual music fest. "I'm as big a music geek as I am a beer geek," Calagione says.
For American Beauty, the brewery asked Grateful Dead members for a base recipe (an Imperial IPA) and then polled the band's fans, who provided 1,500 ingredient suggestions (only some of which were illegal). But nothing beat out organic granola. They used the concert-parking-lot staple—a blend of oats, almonds and orange-blossom honey—to give a hearty sweetness to stand up to the experimental hops.
It's a rich, creamy, tasty combination that does the Dead proud. But we didn't test to see whether the beer, like the band, is different every time you taste it—or if it's even better when you're stoned.
Brewery: Dogfish Head Craft Brewed Ales
City: Milton, Del.
Style: Imperial India Pale Ale
ABV: 9%
Others Tagged With