Apple's 2013 iPad Event Roundup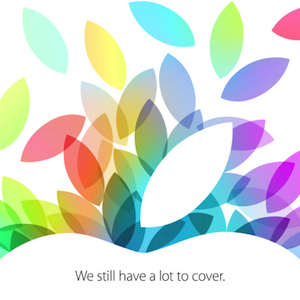 It's been a little over a month since Apple held its iPhone event, finally giving Mac users the long-awaited iOS 7 that the company hailed as the biggest update to iOS since the iPhone was introduced. Easier to navigate and featuring a much simpler interface, the new mobile operating system went along perfectly with the company's newest versions of its flagship iPhone—iPhone 5s and iPhone 5c.
This time around it was iPad's turn to take center stage. Led by Tim Cook, Phil Schiller and the usual crew of Apple senior execs, Apple brought us another slew of really cool updates from their special event in San Francisco, which you can check out in our summary below:
iPad
Those who've been tracking iPad rumors over the past few months probably weren't too surprised by the updates today, but it would be tough for anybody to say the new branding wasn't a pretty cool moment. The new iPad Air, as the company calls it, is the 9.7" model and features a far smaller bezel, 7.5mm thin body and, at only one pound, is the lightest tablet on the market. It'll ship in November at a starting price of $499 and will sell next to the legacy iPad 2.
iPad mini
As a companion to the iPad, the iPad mini's biggest complaint has always been that it lacks a Retina Display of its own. But starting today, all new iPad minis will get the powerful display as well as the new 64-bit A7 chip that Apple's mobile lineup is receiving this year. It starts at $399 and will be available later in November alongside the regular iPad mini, which is now priced at $299.
Odds & Ends
Apple kicked things off by bringing attention back to the Mac's internals. Apple announced its new operating system OS X Mavericks way back at the 2013 WWDC in June, but we learned that it'll finally be arriving today. The primary focus of the new system has been to take advantage of the battery-saving benefits of the new Intel Haswell processors that the company introduced to its computers earlier this year. Features like OpenCL, integrated graphics and other under-the-hood improvements are all essentially lumped together for the common goal of increasing Mac performance while simultaneously reducing the amount of battery the computer eats up. Benchmarks have yet to come in, but this year's MacBook Air already touts "all day battery life" that can last up to 12 hours. Apple bets Mavericks will bump battery life even higher. Oh, and it'll be completely free to update.
The MacBook Pro was finally given a crucial Haswell processor upgrade of its own four months after the cheaper MacBook Air first received the processor. As expected, the Pro will have even better battery life—up to nine hours—thanks to the new processor. The Pro starts at $1,299 instead of $1,499 for the base model, too, which is a crucial sticking point for a company that has earned a reputation for having the most expensive notebook computers around.
The Mac Pro, Apple's high-end, professional desktop system, finally gets its release date after a summer without a definitive release and several years without a major update. Phil Schiller announced that the Pro will at last make its debut in December for an entry price of $2,999.
There were also some updates to iLife and iWork, the latter of which had a pretty sweet demo of an improved GarageBand (drummers, you might want to check that out). There were some murmurs of a possible Apple TV system with XBOX Kinect-like motion controls, but nothing materialized this morning.
Got news tips for Paste? Email news@pastemagazine.com.
Others Tagged With