Arcade Fire Releases Lyrics to Four Reflektor Songs
Last night, two weeks ahead of the hysterically highly anticipated release of Reflektor, Arcade Fire posted lyrics to four of the album's new tracks on their Facebook page. They are: "We Exist," "Here Comes the Night Time," "Normal Person" and "Afterlife." Check them out below: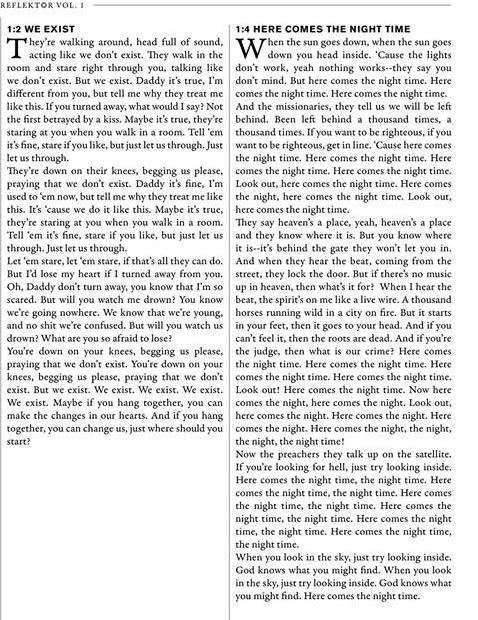 The two lines that stick out most come from the opening to "Here Comes the Night Time," which sounds an awful lot like a Morrissey lyric: "Is there anything as strange as a normal person? Is anyone as cruel as a normal person?"
Otherwise, the first three songs hit a lot of the same themes we're used to from Arcade Fire—the angst of youth, vague cries for rebellion and threats about the world of adults stealing your soul. The fourth, "Afterlife," is the only real departure, drawing a thematic parallel between a broken relationship and the concept of life after death with more poetic imagery ("After all the death, and the dirt, and the fires are burnt") and less rhetoric than we're used to from Win and Regine. It's more "Neighborhood #2" and less "Wake Up."
For most artists, including (well, especially) Arcade Fire, it's tough to divorce the lyrics from music and delivery, but this is a nice appetizer for one of the most anticipated albums of 2013. Reflektor, which clocks in at 75 minutes between two discs, will be released on Oct. 28.
Got news tips for Paste? Email news@pastemagazine.com.
Others Tagged With