Bars of Gold: The Best of What's Next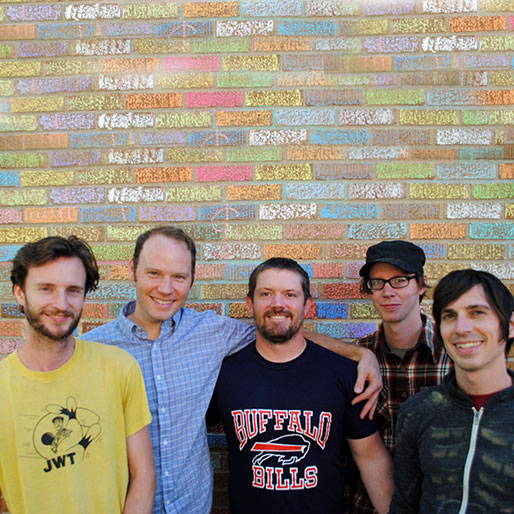 Meet your new favorite blue-collar rockers: Bars of Gold—a sweat-and-blood people's band from the Detroit area that includes five dudes at (or just past) 30, who've got wives and day jobs and kids and maybe a couple other side bands. Their demeanor embodies the definition of down-to-earth, but on stage, they're a beastly blur. And with their new album Wheels, they're rolling up a freighter of fuzzed-up noise-rock with amp-frying guitars and mutations of jazzy, Bossa nova rhythms.
Drummer Brandon Moss puts it mildly: "There's always a million things going on." His seven-year-old son, Olly, joins the band in a restaurant booth. We're on the second story of Ferndale, Mich.'s Woodward Avenue Brewery, looking down on a large stage of a local street fair where an old-timey jazz band blasts from massive PA speakers.
We're here to talk about the band's sophomore long-player, which is out next week on Bellyache Records. Unsurprisingly, the members reflect their easy-going resolve as they consider the future.
"I have a lot of confidence, [because] I really just trust these guys and myself," says Moss, who, with singer Marc Paffi, trampled the post-hardcore circuits of the early '00s in Bear Vs. Shark. "If we just dropped everything, all the responsibilities that we have and singularly just went for it, ya' know, that typical paradigm of a band-just-going-for-it…we'd succeed. But there's a lot to give up …and, here—" he scruffs the small cranium of Olly, sparking static electricity on his frayed blonde hair. "Here's one reason."
"I mean," Paffi leans in, stroking his grizzly beard, "if you're looking for the next freakin' Mumford & Sons then you're definitely gonna have to look past our band. We're not on that route. We are not going to go towards things the easiest way. We're gonna do what we wanna do, when we wanna do it and that's how we're always gonna be until we're done."
Not to play them up as badasses who are all too sure of themselves. Not this band. These guys are all wearing faded thrift attire, some flannel collars under half-kempt facial fuzz, sleepily eying the coffee cups before them inside this bar where they could have easily ordered beer. They are also, mind you, holding off on any four-letter words in front of Olly ("Freakin'" is as crass as they get.)

"Blue Lightning" may be their best yet for evocatively capturing the stresses of the post-millennial everyman: a jittery groove busily clatters under detached guitars swooping low then soaring high over honeyed harmonies—all of this while Paffi reels his somewhat abstract, somewhat visionary, altogether poignant lyrics: "If there's color on your collar, gotta be demons in your basement…"
"You can't write a song about having to get up and go to work unless…you have to get up and go to work," says Paffi. "Otherwise," Iulianelli adds, "What's is your life if it's just being out on the road? You just wind up writing about 'the road,'" like one of their admitted influences, Bob Seger (in "Turn The Page.")
But a normal person, (whoever that may be, says Paffi,) doesn't relate to the road song anymore. Normal people relate to their kids or to their newspaper subscriptions or to their own "demons." And this is a band that's going to explore those ideas while still living life on the way there. That brings "a lot of yins and yangs" says Paffi. They're trying to be both "a successful band" and "successful people." Read: not Fortune 500-successful, but successful at being people.
"I don't like this band," Paffi says, eyeballing each member surrounding him at the table, with bassist Nick Jones shouldered cozily at his side, "I love this band. I've been growing together with these fellas and we're taking a different route."
They have "grown" together on this different route because BoG actually started without Paffi, back in 2006, as a strictly instrumental band called Wildcatting. Paffi was a big fan, but Moss yielded him from an attempt to "sing over Wildcatting songs." "[With Bars of Gold,] we only figure out about 75 percent of what's gonna happen on stage," says guitarist Scotty Iulianelli. "That other 25 percent of chaos, that's what I love about this band." With Wildcatting, those songs were actually 75 percent chaos/25 percent planned, to contrast.
Wildcatting, Moss says, was "just us wanting to be in a band and be as pragmatic as possible but also have fun." That part hasn't changed.
But how do you make a record when you're so busy being people? Bars of Gold decided to treat it like many folks looking for an escape, and the guys sort-of went camping. They escaped their jobs and the city (for four inspiring days) and hunkered down with renowned engineer Chris Koltay of Detroit's High Bias Studios. They biked out for groceries and cooked their own meals. (Actually, Koltay, who has worked with Deerhunter and Akron/Family, often cooked for them, providing cuisines equally as enriching as his sonic suggestions. He even solidified the "camping" aesthetic by having them sleep in bunk beds).
But back to those lyrics. Audette actually beats Paste to the punch and asks Paffi a question we'd intended to pose later: Do you worry the meaning of your lyrics might get lost when it has to sail over loud, aggressive music?
Paffi says he does his best to enunciate, but Moss soon jumps in: "Funny you say 'aggressive,' I say: 'excited!' I feel like I'm stoked, excited, exuberant." Heavy music can be celebratory. Rock music that's "25 percent chaos" can also be 100 percent "exuberant."
Others Tagged With