Comic Relief with Battling Boy Creator Paul Pope
Page 2 of 2
Paste: This first question is a tad esoteric, but as I was reading Battling Boy I couldn't stop thinking of this cartoon from 1939 called "Small Fry" from Max Fleischer. Are you familiar?
Pope: No, but I like Fleischer's stuff a lot, especially the old Supermans.
Paste: The cartoon's a cautionary tale about growing up too quickly, but there's a scene where the character goes into a bar and there are all these monsters.
Pope: I had Tom Waits in mind for that scene. I thought of corroded cabaret: a saloon. That's what I was going for with that. Ideally Tom Waits would be the soundtrack.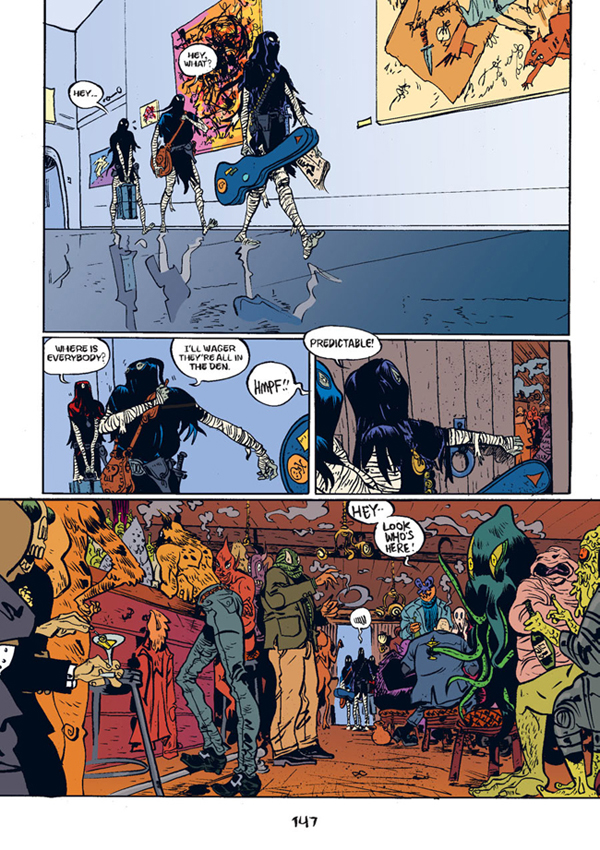 Paste: Was there other music that you had in mind when you were thinking about the set pieces and characters?
Pope: Definitely. I listened to lots of soundtracks for the first book. I'm a big fan of Blixa Bargeld and he has a recent record with Alva Noto called ANBB. It's a subliminal, minimal electronica album. And I listened to that a lot. I fell in love and listened to it obsessively.
Paste: You're also a DJ. I'd imagine you have an eclectic discography.
Pope: I still do it sometimes; not as often as I used to. I did a party in July that went over really well. For that type of thing, everyone wants to hear Daft Punk. When I'm working I listen to lots of ambient music or Beethoven.
Paste: There's a classic, golden-age feel to Battling Boy. I could almost picture Johnny Weissmuller or Errol Flynn playing the Dad and Clark Gable playing the Cap'n. Was there a particular mood or aesthetic you had in mind for creating this book?
Pope: I'm a huge fan of Boris Karloff and the old Universal movie serials; films like The Mask of Fu Manchu and the old Flash Gordons, Frank Capra's Lost Horizon. Those movies are all really big influences.
And also, more in a topical sense, you'd think you'd need to find some elegant way to explain why this is a world overrun with literal monsters coming out of the ground, stealing children. How do you explain how people accept that, or how that really happens? So I was thinking going into it that this world is another earth. It's like Disney World. In Sleeping Beauty, no one questions that the Queen turns into a giant dragon. So I figured, let's take that kind of world ethos and port it far enough into the future so that it's modern, but not so modern that we have computers and nuclear weapons and bunker busters and all this stuff. The first thing you'd think Donald Rumsfeld would want to do is shoot some Daisy cutters into the subway system to blow up the monsters. I wanted to avoid all of that modern warfare and then evoke those old Disney films. I think for kids, you need to be able to find a way to logically and elegantly explain 'why aren't there laser guns, and why aren't there cell phones, why isn't there an internet?' That kind of stuff.
Even though it's a kick-ass superhero book with some science fiction, Battling Boy kind of fits into that fairy tale world. It has a mish-mash of a lot of stuff that hopefully a lot of people will know. There's a lot of classic Marvel comics, anime, and Joseph Campbell.
Paste: How much of Battling Boy comes from your own childhood? Is there anything that reaches up from your time growing up in Ohio?
Pope: Yeah, I was kind of a latchkey kid and I was alone a lot. I can channel memories of that into Battling Boy's attitude and way of being a kid by himself. He literally wears a latchkey, because he's a latchkey kid. That's a subtle hint. He's sort of based on my nephew. I have this memory of my nephew when he was 12, so (Battling Boy) is kind of a combination of my personality and his personality, and how they would naturally react to these scenes.
Also, I thought there weren't a lot of kid superheroes that I could think of. I've heard people say this reminds them of Ben 10 or some other manga/anime I've never heard of. It's funny because the gestation of this project goes back before Ben 10. I think there are other people imagining, 'what can we do with comics that aren't being seen.' To me that's the most logical thing. There aren't any kids story superheroes I can think of. So this is somebody else, same idea.
Paste: There's a line in the book when the mayor's publicist tells Battling Boy "Battling Boy is perhaps a bit too drastic, too violent for your target demographic." Your anecdote from Comic-Con has opened up the forum on kids comics quite a bit. Was it difficult to make a book like this and convince a publisher to release it?
Pope: Well it was kind of a perfect storm. First Second needed to propose something, and we had time to talk about it, because I like time to get to know the people I work with before I sign a contract to make sure everything's above board and the company's solvent. New companies come and go all the time, so I wouldn't want to tie up rights to something in that way, because that does happen.
Luckily, Macmillan, the parent company, publishes lots of kids books and young adult novels. So it wasn't too far of a stretch to imagine doing a comic book, but to the publisher it's more of a young adult book or a children's book. So it was kind of a nice hybrid of the two.
Now it's being marketed and proposed as a young adult book, which is cool because it's getting into new audiences and avenues, where normally you wouldn't have comics going to: school libraries and that kind of thing. I can see them doing some talks at schools and library associations, which is more of an educational thing. With a lot of my work in the past, that wouldn't be the case. That's an interesting surprise, but welcome.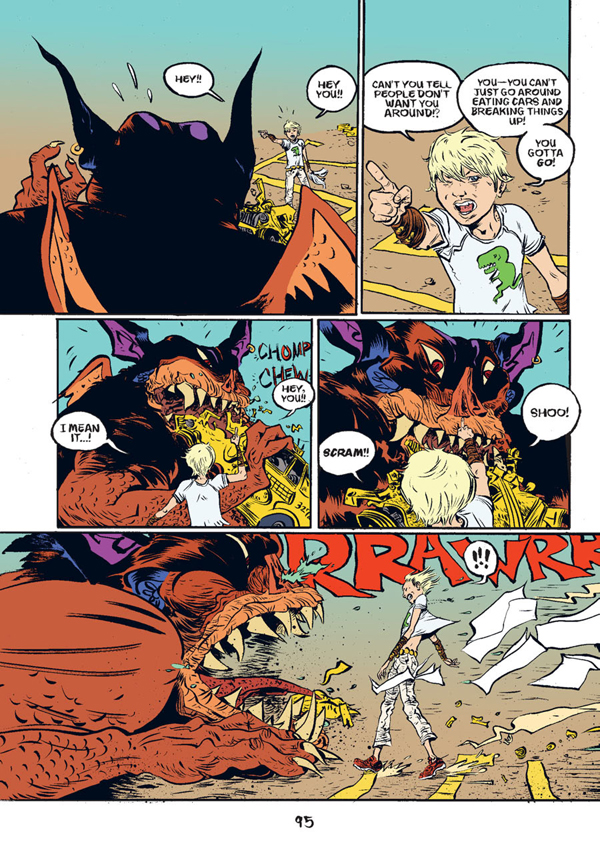 Paste: Historically, some of those groups have been sensitive. I'm thinking of what happened with Craig Thompson's Blankets (in which the book was temporarily removed from a Missouri library because a resident called it pornographic). Has the response to Battling Boy been positive or has there been any resistance?
Pope: No, it's definitely been positive. The big concern was the chain stores, like Walmart. There isn't really anything subversive in Battling Boy in terms of drugs or sex. It's a pretty straight-forward adventure story. There's one scene where Battling Boy has a discussion with an old elephant, and there's a hookah pipe. I just kind of stuck it in to suggest exoticism. That's the one time we had a discussion where we went, 'what is this there for?' Well, it's an incense burner. It's not a covert reference to drugs. So we decided to leave that in, which I was happy about.
Paste: So Battling Boy is the first chapter of a larger work. What's your grand vision? Is there a timeline in place?
Pope: Mainly I'm concerned with this initial heroic coming-of-age story. Battling Boy is a 2-book project, so it has an end. Certainly there's room to expand it and do other stories . I'm working on the (second book) now.
Paste: You also have La Chica Bionica from French publisher Darguad.
Pope: Yeah, I've got two projects with my French publisher that are original for the French market. We'll figure out how to publish them in the States later, but those are ongoing. Things shift around. The whole genesis of the Battling Boy project has been chaotic to say the least. I've been working steadily on those; there's no set date on them at this point, but Bionica's ongoing.
Others Tagged With