Dale Earnhardt Jr. Jr.: The Speed of Things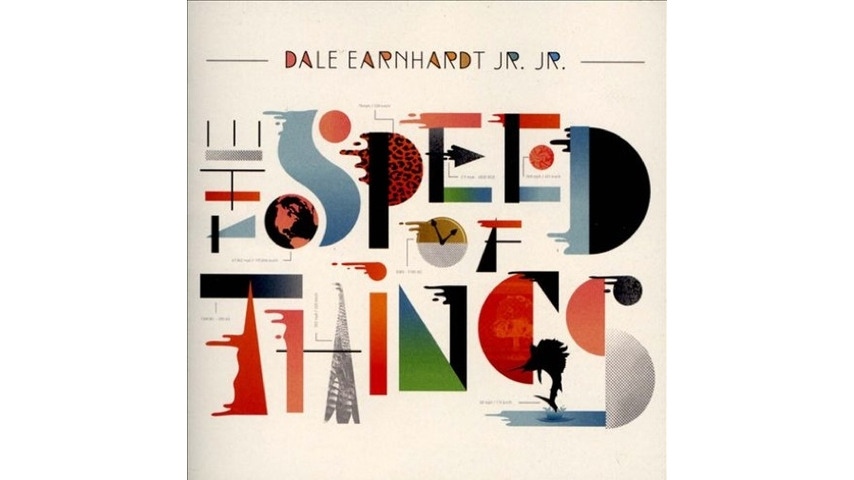 Sophomore efforts are tricky. As a complete package, they come with a great deal of pressure and are often pitched as the make-or-break moment in a band's trajectory—the point at which they capitalize on their strengths, evolve and expand their sound, switch things up entirely or continue with business as usual and remain either solid or stagnant (depending on how the debut was received). Perhaps unfairly, it sometimes results in steadfast validation or vilification. So, for the screwy indie-pop duo Dale Earnhardt Jr. Jr. (aka Josh Epstein and Daniel Zott), the question is, what path would they take?
The band's debut, It's a Corporate World—sometimes quirky, sometimes brilliant—established the Detroit duo as a prominent new force in modern new wave. And on the band's second album, The Speed of Things, that trend continues—but with a few curveballs thrown in. Like its predecessor, the album is stuffed full of sticky-sweet lyrics, hook-heavy compositions and keyboard-laden textures. According to the band, the record "focuses on the size and speed of the world today." With that in mind, the album certainly feels fuller, more realized, more technologically savvy than It's a Corporate World. Instead, The Speed of Things is the sound of polishing and fine-tuning rather than establishing or founding.
This maturation in sound and method, while subdued, is all over the place. While there are heavy-handed elements of new wave and dance, there are also numerous instances of alt-folk and indie pop. The first single—"If You Didn't See Me (Then You Weren't on the Dancefloor)"—features a variety of dance-oriented swirling synths and '80s electric guitar melded together into a catchy chorus; the excellent "Knock Louder" starts off with sparse fingerpicking before giving way to harmonized vocals and outer-space keys; "Don't Tell Me" showcases prominent acoustic strumming as the driving force; "Gloria" oozes with intricate drum rhythm and percussion, and "Mesopotamia" features a heavily beat-infused backdrop that is flanked by warbling keyboards and ghostly backup vox. While there's no immediate or drastic shift from the band's debut, these intricacies result in a lighthearted, poppy album whose manifesto isn't concerned with anything but its own catchiness and dynamics.
Although this expanse in sound is minimal, it's certainly there. But even so, the musical mash-up is always conducted with cohesion and persistence. While some songs at first may feel disconnected or unfocused or scattered in scope, they typically build themselves into a swarm of structure and detail. In doing so, Epstein and Zott have concocted an album that will ultimately elude the dreaded "sophomore slump" tag. They have stuck to a formula that worked on their debut but have taken it a step further. And while the album bolsters the band's brand of sound rather than showcasing any significant amount growth in writing and arrangement, The Speed of Things is an exercise in consistency and accessibility. It's refreshing. This album is about reinforcement, not revolution. Where they go from here should be interesting, but if they keep adding depth and dimension to their music, Dale Earnhardt Jr. Jr. could blow up. They've taken the next logical step with The Speed of Things and, in doing so, are headed in the right direction.
Others Tagged With