Download This: Dreamcatcher Project
An app that tracks your dreams and shows what dreams are trending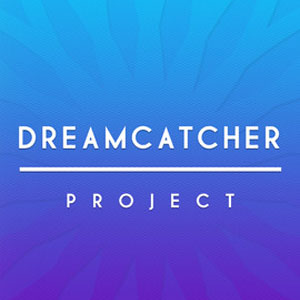 Do you remember your dreams? Many suggest keeping a dream journal—a place to document your nighttime imaginings to help cement them in your memory. Such is a routine that is often difficult to maintain, however. A verbal ramble, perhaps to a friend or loved one, tends to be much easier.
That's where Dreamcatcher Project comes in. This ear won't just listen to you, it'll transcribe your words and organize them for later.
Following a brief introduction and light tutorial, Dreamcatcher Project presents you with a cooly welcoming blue to purple grade. Big bubbly buttons scroll downward, presenting a by-date archive of your dreams. The first handful of words from your dreams head each entry with the rest sliding into view upon selection. Should you want to find a specific topic of your thoughts, a search bar rests atop the stack.
Once you're done with a section, a genial smiley face adorns the screen. The dream catcher itself sits at the bottom and a simple tap or drag brings up a vortex. When the microphone button is pressed, it begins to swirl and pull, soaking up and crystallizing your words. It's a strangely nice thing to offer your dreams to—there's no fear of judgment or teasing—no self-aware awkwardness associated with actually penciling out your bizarre dreams. It's just an open receptacle.
Now, if you've got a perfectly clear morning voice, your transcriptions should be happily accurate. If you're understandably dazed or squeaky in the mornings or, heaven forbid, have a foreign accent, you'll likely have a bit more trouble.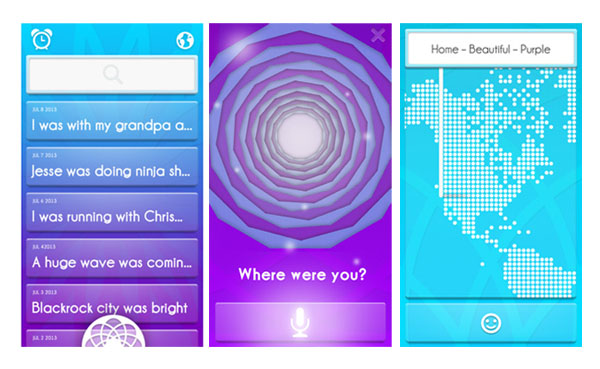 But here's where things get interesting: A tap of the globe in the top right opposite the alarm clock spatters large points across the shape of the world's continents. All users in the area around large white points (each is about the size of Hawaii's main island) are rolled up into a single collection. Tapping their shared point pops up three keywords distilling the most common elements of those folks' dreams.
Some more extensive analytics could have been fascinating, but such is beyond the intended scope of the app. It is fun to make sweeping generalizations about a region based on their dreams, though.
Most of Dreamcatcher Project's functions can be found elsewhere—and sometimes even in greater detail. But Dreamcatcher Project's appeal lies in its ability to strip out the nonessential or frivolous things often packaged along with its functions and neatly squishes them together. It's friendly, understandable and easy enough for the newly awakened zombies amongst us to make sense of.
Platform: iOS
Price: $1.99
Download This: iTunes
Others Tagged With