Eastbound & Down Review: "Chapter 23" (Episode 4.02)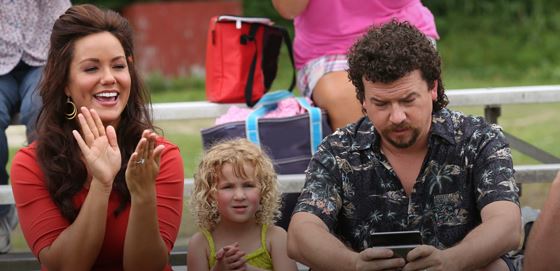 Nothing's ever made more sense. Of course Kenny Powers would be great at yelling about sports. He's been a professional asshole more than anything else for most of his adult life, so he'd fit in perfectly on one of those cable sports shows where the logic behind an opinion is less important than the volume. It might be weird that a show like that would exist on a Charlotte affiliate with a full roster of world-class ex-athletes for hosts, but North Carolina has always been the geographic center of the Eastbound & Down universe.
Anyway, Sports Sesh. After last week's night at the club, Kenny realizes that co-hosting a cable sports talk show is his true life's calling. He drives straight to Charlotte after diggings his own swimming pool, showing up filthy and pathetic and begging his old teammate Guy Young (Ken Marino) to let him sit in on an episode of his talk show. Guy only agrees because he thinks this notorious dick will finally shut down his obnoxious co-host Dontel Benjamin, the guy who made a homophobic crack on the Sports Sesh clip from last week (and who's played by Decatur's own Omar J. Dorsey.) Young has faith that Kenny's God-given ignorance and belligerence make him a more potent asshole than Benjamin, and after three seasons of Eastbound there's no reason to disagree.
Kenny's out of his element, though. Things go wrong from the start, when his loyal servant Stevie refuses to reenlist for the cause. Stevie's struggling in suburbia, too, barely making by as a music teacher and a regular target of violence and ridicule from his extremely vulgar children. Kenny orders Stevie to rejoin him, only to set off a battle for dominance between these two dumb men who are too proud to admit they need each other. Stevie refuses, they become enemies for life, and Kenny sets off on the comeback trail without the only person who's ever fully believed in him.
It's hard to make Kenny look vulnerable, but his disastrous first appearance on Sports Sesh was perhaps the most sympathetic he's ever been. He's still a fool in his thirst for fame and fortune, but again, he should be great at this job. This career option is viable for him in a way that pitching in the major leagues rarely was in previous seasons. It might be the only viable career option for him. When he completely bombs at it because of Benjamin's flashy stonewalling, you actually feel bad for Kenny. Yet again the show has us rooting for this horrible human being to succeed, if only because the guy he's up against seems even more horrible.
That's maybe Eastbound's greatest weakness. The only way it builds a villain is by making that character even more detestable than Kenny. Reg Mackworthy and Eddie Powers are eventually vindicated, to an extent, but Ashley Schaefer and Ivan Dochenko are almost cartoonish in their villainy. Dontel is perhaps too extreme of a caricature of a Deion Sanders type for there to be any weight to this story. Even when Kenny bombs at first you know he's going to somehow get the W because Dontel is so over-the-top and unlikable.
Of course Kenny can't redeem himself without the help of Stevie and April (Katy Mixon). After convincing Guy to give him a second shot, reconnecting with Stevie and training hard for his next appearance, Kenny successfully destroys Dontel on what is apparently the only local network sports show that's cool with the F word. It's not as gleeful or sadistic a victory as when Kenny knocked Mackworthy's eye out of its socket in the first season, but it has a similar verve, with an energized Kenny feeding off the support of the crowd. He's finally cracked the code for his post-sports life, and I can't wait to see how he messes it all up over the next few episodes. Maybe when he bombs out of TV Kenny can move on to pro wrestling?
Others Tagged With