Hit #2 by Bryce Carlson and Vanesa R. Del Rey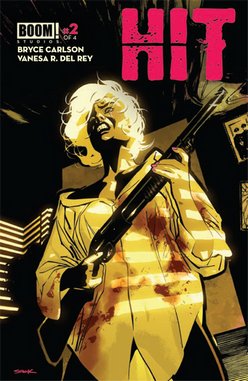 Writer: Bryce Carlson
Artist: Vanesa R. Del Rey
Publisher: BOOM! Studios
Release: October 2, 2013
The paper stock may have changed, but publishers are putting the pulp back in comics. And why not? The two go together like bourbon and broads. BOOM! Studios joined the neo-noir resurgence last month with Hit, a four-part series spinning a tale of the LAPD's clandestine Hit Squads and the hard-boiled, fedora-crowned coppers who executed the city's most nefarious criminals.
The first issue mired Detective Slater in all sorts of trouble. His former partner turned up with a bullet through each eye. He rekindled an affair with Bonnie Brae, his boss' femme fatale daughter with a shadowy past. She killed the dirty cop who stormed Slater's place looking for her. This installment drops us right in the thick of it: two dead cops in as many days, one of whom is splattered across Slater's apartment. What else can happen? Plenty.
Bryce Carlson has created an L.A. where arrests, though a nice thought, seem optional and police work consists of poker and whiskey. He's unencumbered by the Motion Picture Production Code that hampered the films of the '40s, and the result is a graphic noir gloriously distilled down to its bleeding core — the world is gray and morality is a matter of perspective. It's pulp for a generation numb to sex and violence.
Vanesa R. Del Rey's art brings a lot of that to an aesthetic head, often juxtaposing gritty '50s-suave with horror. It's occasionally subtle, like a Rat Pack shot of the squad with a bloody meat hook or a triptych of panels with Slater coolly lighting a cigarette amid the corpses and carnage of a crime scene. Then again, sometimes subtle is overrated. In some of my favorite visuals, Del Rey frames Slater and Bonnie behind some mangled flesh in the foreground, as in the final, visceral panel of this issue.
While Hit touches on the classic tropes of good noir, it's more than just guys in high-waisted pants calling each other "Mack." Carlson and Del Rey move us through the Los Angeles underworld with a lithe, cinematic hand, building tension and intrigue along the way. I can't help but wonder if four issues is too cramped, though. The series may have been better served with six. At the halfway point, the plot is solid and still has potential for some crushing twists and, of course, bullets in abundance.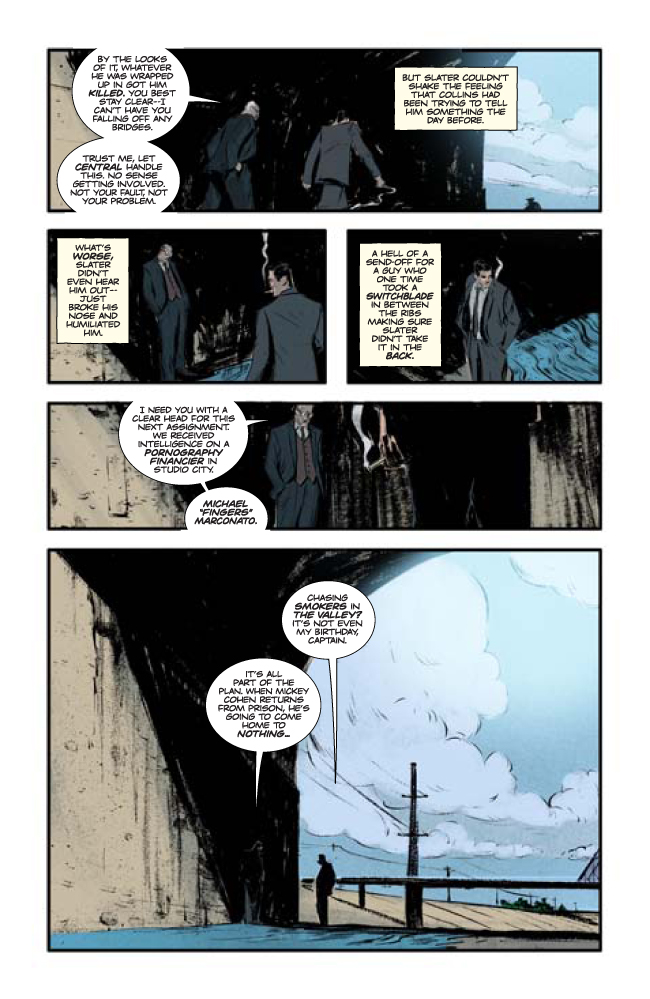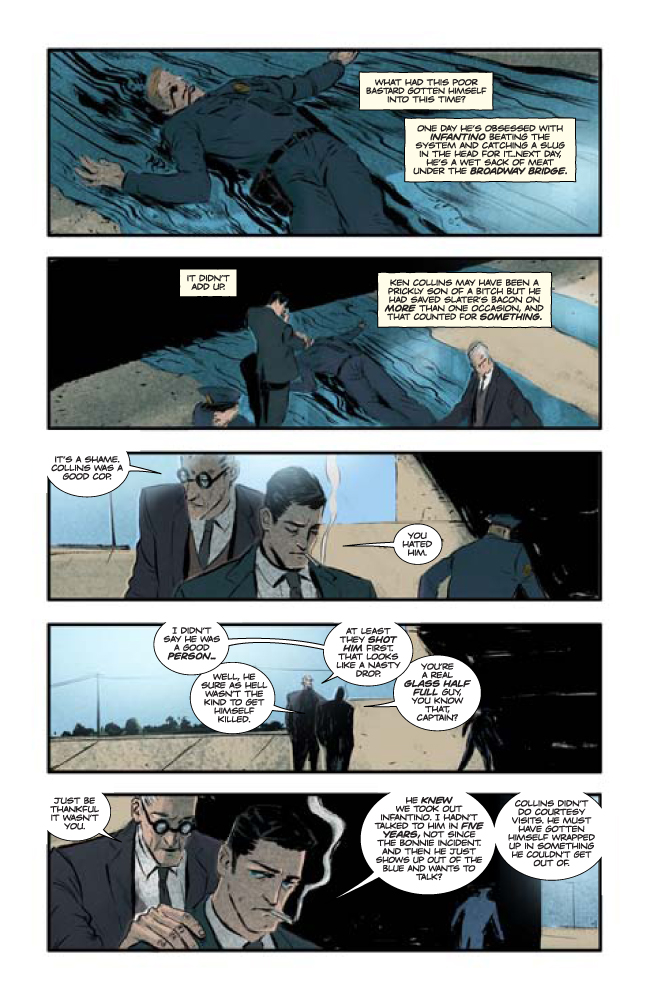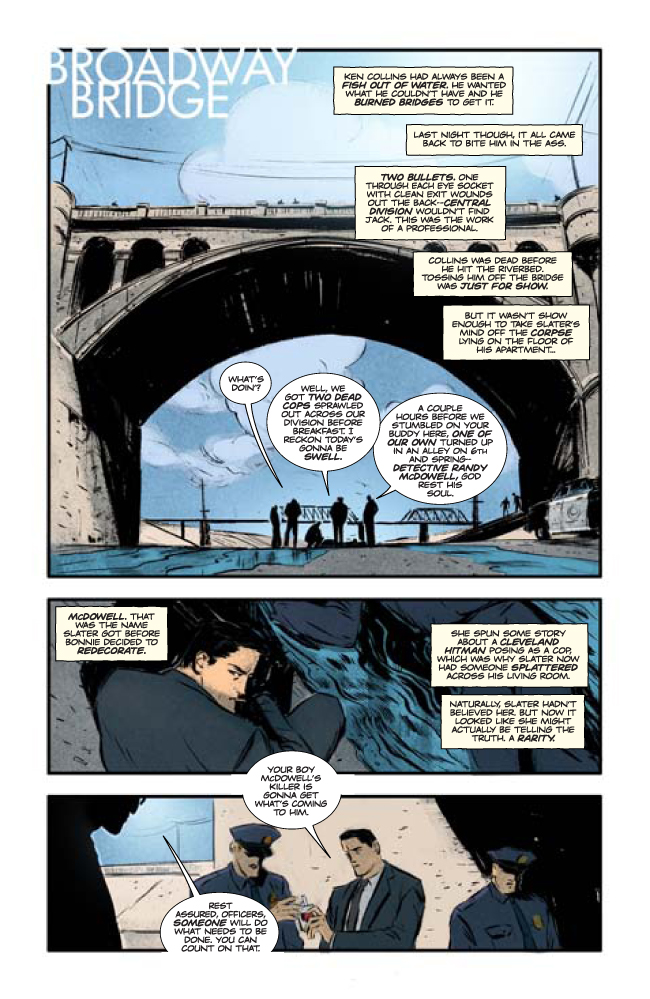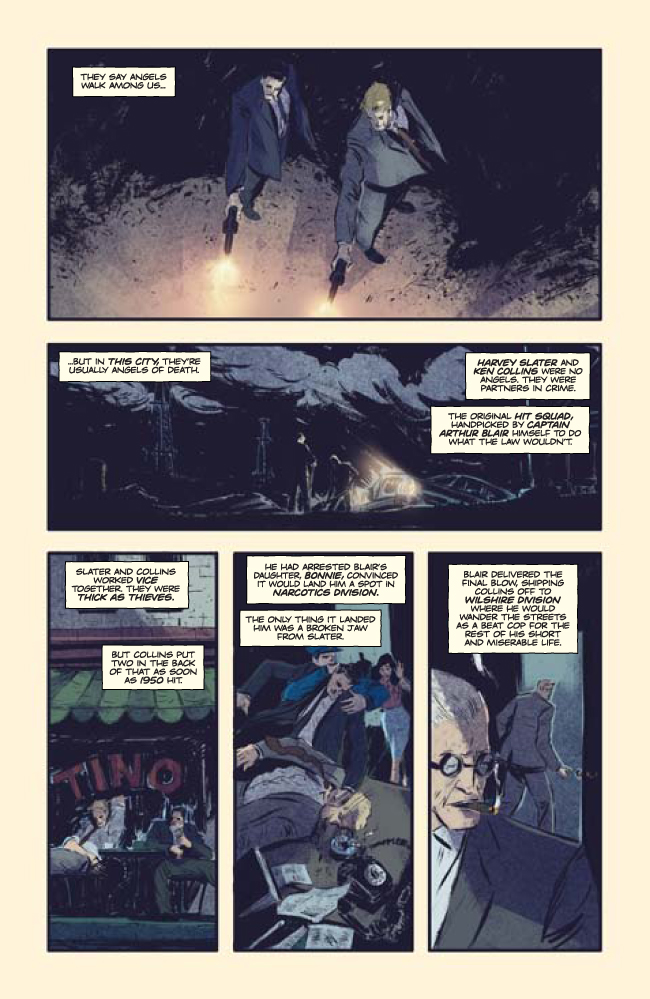 Others Tagged With