Joan Jett & The Blackhearts: Unvarnished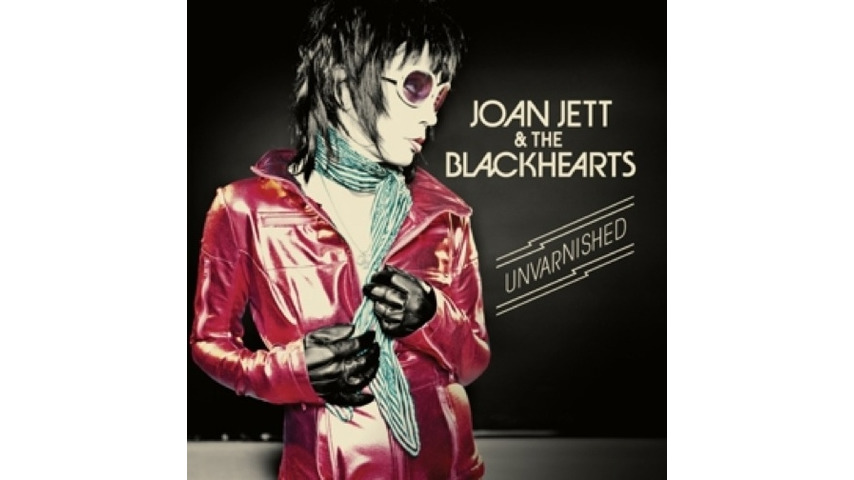 After a prolific run in the '80s that saw her cranking out records and singles, Joan Jett slowed things down, releasing as many albums over the past two decades as she did in her first seven years. But she's always been a road warrior, playing clubs, state fairs, casinos, stadiums, festivals—it doesn't matter—all the while her legend has continued to grow. That's just Jett's solo career. You can yammer on and on about the importance of The Runaways on rock music and their significance to every woman who's ever strapped on a guitar since.
Here we are in 2013—far from a perfect place, but definitely a changed world since Jett picked up a guitar some 40 years ago. Unvarnished—her first studio LP since 2006's Sinner—feels like the right record at the right time for the 55-year-old Jett. She's not reinventing the wheel musically, but Jett does continue to dig into more personal topics—it's less sex, drugs and rock and roll, and more love, life and death.
But you don't have to worry about things getting too heavy. Even when Jett tackles Hurricane Sandy ("Make It Back") or the death of her parents ("Fragile") it's still couched in the same '50s-inspired punk rock she was jamming in her early daze. "I'm at the point in life now, I think about/My own mortality and, how it all works out," she sings on "Fragile," over a buzzing guitar riff. Jett gets help from man-about-town Dave Grohl on the ripping opener "Any Weather," while "TMI" rolls out the classic hand-clap rhythm of classics like "I Love Rock 'n' Roll" and "Do You Wanna Touch Me (Oh Yeah)."
The biggest surprise comes in "Everybody Needs a Hero," a ballad that incorporates strings and closes the album on a somber note. On first listen, it comes off a little sappy and melodramatic. But in the hands of Jett it feels real. Of course, that's always been her M.O.—play it from the gut. We know Joan Jett loves rock and roll. Unvarnished reminds us again just how much rock and roll needs her.
Others Tagged With