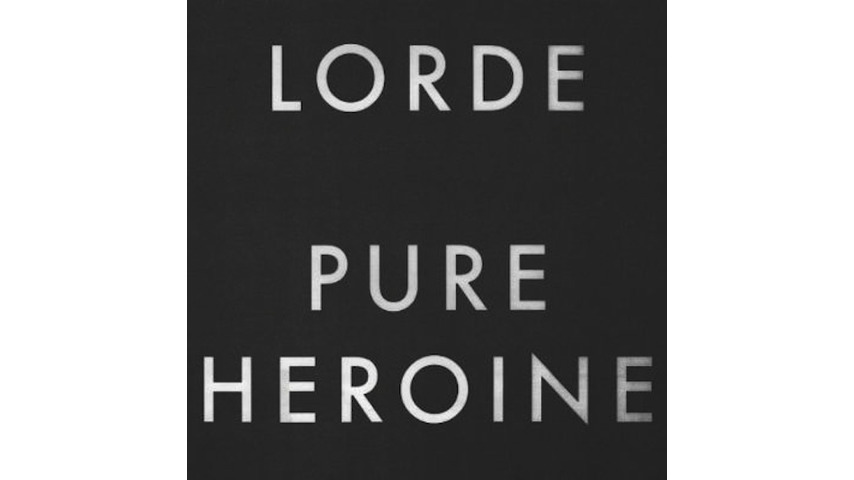 "Don't you think that it's boring how people talk," Lorde hypnotically intones as Pure Heroine, her wildly anticipated debut opens on the confessional "Tennis Court." "Making smart with their words again/ Well, I'm bored…"
A 16-year old girl not looking to twerk, whine or sugarshock? Meet Ella Yelich-O'Connor, who emerges as a distaff Holden Caulfield, by employing a sangfroid that punches through an acquisitional society which measures worth by a flauntatiousness divorced from meaning.
"Royals," the summer's surprise lo-fi trance-ish alternative No. 1, finds Lorde ironically checking rap/video staples from Crystal, Grey Goose, tripping in the bathroom, jet planes to diamonds on your timepiece and tigers on a gold leash. The daughter of poet Sonja Yelich works juxtaposition like a stripper works a pole—eschewing Kardashianity with her head held high, admitting "We count our dollars on the train to the party/ everyone who knows us knows we're fine with this/ We don't come from money…"
Boredom as insurrection and seeing past brokered blingdome is the new revolution plied by Lorde, who merges Lana Del Ray's flat affect, Queen-evoking curtains of disembodied vocals and Massive Attack's electronica over an anything but fizzy electro-pop. Superficiality falls beneath her razor-scrawled lyrics, which skewer the sexualization of violence ("Glory and Gore"), the willfully blissfully unaware ("Buzzcut Season") and the unattainability/desirability of faux perfection ("White Teeth Teens").
Not as cutting as Fiona Apple's brutally knowing "Criminal," Lorde is equally unapologetic. The New Zealander's refusal to buy in speaks for a generation coming to terms with a glass ceiling that suppresses. Still she finds reasons to celebrate—"400 Lux" tenders unfurling romance as it occurs in "cities you'll never see on the screen."
"Team," with its cascading melody and Lorde's admission "I'm kinda over getting told to throw my hands up in the air," is a droning indictment of bankrupt promises. "Everyone's competing," she intones, "for a love they won't receive."
Lorde explores that turpentine kind of real. The accelerating "Ribs," all whip-snap rhythm track and amorphous synth cloud, is a perfect vessel for the chaos of alienation and hormones that is puberty staring down growing up, while the slow teeter-totter of "Still Sane" is the exhausted acceptance of how hard fashioning a life of fame can be.
At 37:17, Pure Heroine doesn't take long to take down modern values. For Lorde, youth is both the ultimate revenge and burden. To know so much, to feel so little and to embrace what is, she illuminates being young, gifted and bored with a luminescence that suggests life beyond Louis Vuitton.
Others Tagged With