Nostalgia Drunk at New York Comic Con 2013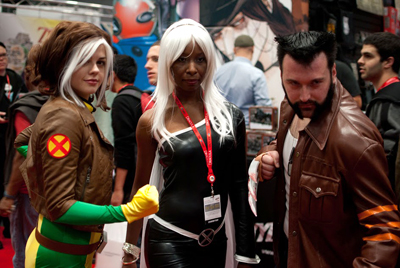 Page 1 of 2
In his four day journey into the heart of pop culture excess, writer Robert Tutton explores the second largest comic convention in America. Cult celebrities, comic royalty, and enough esoteric toys to break eBay fill a surreal event nexus unfairly overshadowed by its big brother in San Diego.
Day One: Nostalgia Drunk
If you've never been to New York Comic Con, you should really fix that…unless you're a geek with poor impulse control, in which case you may end up leaving with a life-sized cutout of Colm Meaney from Star Trek: The Next Generation, and all the Funko POP! vinyl figures you can carry. And probably a sword. The sheer scale of things you'll want — and, oh, how you'll want them! — can be a lot to take in all at once. A sensory overload of costumes and collectibles that must be what Vegas is like for lovers of inexpensive buffets and nickel waterfalls. It's as if every pop-culture reference you've ever heard threw a party. And it's an awesome party.
It could have been the orange-hued lighting or watching two cosplayers dressed as Pulp Fiction's Vincent and Jules shouting "Say WHAT again!" but there's this warm cloud of fandom lingering throughout the con that is almost tangible. You can get a little drunk off the nostalgia, and before you know it you're smiling and talking to strangers, which is exactly how I ended up seriously considering that Colm Meaney cutout.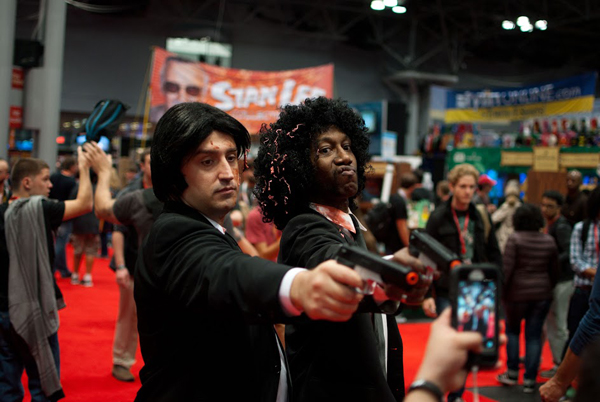 Speaking of talking to strangers, I bumped into Robert Kirkman, zombie lord supreme and creator of The Walking Dead, near the Image booth. I wish I could say I used my intrepid journalism skills and rapier wit to tease some cool info out of him, but the meeting consisted of Kirkman graciously pausing his exit and me half-apologetically snapping a selfie.
Meandering the aisles, I found Six-Gun Gorilla: Long Days of Vengeance, written and self-published by Brian Christgau (the comic shares no relation to the near-identically-titled BOOM! Studios series). Christgau explained how he came to write the story, which he's planned as a 10-issue arc. "The original Six-Gun Gorilla came out in 1939 and was printed in a British pulp periodical called Wizard," Christgau said. He describes the BOOM! Studios story as "sci-fi with western themes," whereas his is a classic western. "There are actual characters in this that are modeled after character actors from the Sergio Leone movies. So if somebody is a real hardcore fan of Spaghetti Westerns, they're going to see some of these characters and snicker to themselves."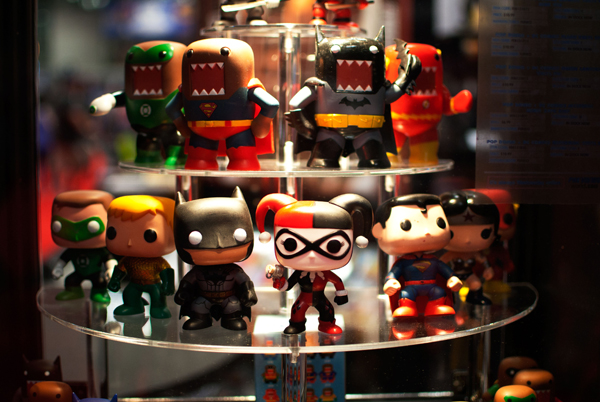 On the non-comic front, I met Taimak, the star of Berry Gordy's 1985 Harlem kung fu flick, The Last Dragon. Now, I've watched The Last Dragon on average, about twice a year for time immemorial, so to say the least, this was a bucket list-level meeting to stumble into. The radio was playing Willie Hutch's "The Glow," and though he wasn't mobbed, every person who stopped by for an autograph had a stunned, giddy grin.
"So when's Part 2 coming?" asked one fan, after taking a picture with him. "If there's a good script," he smiled, then, perhaps really thinking about it, added, "but they don't usually make good sequels." Two more fans showed up, awestruck by the sudden rush of memories, and asked questions about scenes from the movie before buying autographed stills from the movie.
It's easy to get drunk on nostalgia.
Day Two: Panel Paralysis
Friday offered a crash course in comic book news, but you had to really want it. Marvel, DC, and The Walking Dead all did panels in the same room and in fairly close succession. Many people sat through all of them to secure themselves a good seat for the ever-packed Walking Dead panel, celebrating the zombie comic's 10th anniversary.
Waiting in line for the Marvel: Amazing X-Men & The Marvel Universe panel, I met a super-cool couple who had traveled all the way from Belgium to attend not only their first New York Comic Con, but their first American one. Joe was tall and lank and dressed as The Riddler, complete with felt bowler hat and a streak of purple paint across his eyes, while Alex, painted entirely green, was dressed as M'gann M'orzz, better known as Martian Manhunter's niece, Miss Martian. She explained that she might have dyed her hair if it were longer, and it was just too hot for a wig, so she stuck with her short brown hair.
"It's strict," Alex said of the convention, showing the tag on Joe's question mark cane where security checked it. "There was a guy with a real crowbar, they let him right through. This is a fucking curtain rod!" They came prepared though, wearing different costumes Thursday where he was a futuristic Doc Brown from Back to the Future, and she dressed as Wonder Woman.
The Marvel panel included some heavy hitters in the X-world, like Peter David, Dennis Hopeless, and Marjorie Liu, among others, and was moderated by Marvel senior editor Nick Lowe. Lowe spoke about the new Amazing X-Men series that hits shelves next month and marks the return of everyone's favorite sulfur-smelling X-Man, Nightcrawler. "It is one of the most swashbuckling dangerous adventures the X-Men have been on in a long time," Lowe said.
Dennis Hopeless chimed in when they got around to X-Force: Vendetta, which pits Psylocke's Uncanny X-Force against Cable's squad. "We'll be doing a big crossover where Cable kicks the shit out of those guys," Hopeless said. It will also notably mark the return of Stryfe. Other highlights included talk of the new She-Hulk series by actual attorney Charles Soule, due out in 2014. "It's going to be a series where Jennifer Walters, who I've always found to be a really strong character in a million different ways. Obviously she's physically strong, but she's also very self reliant, very optimistic and good-hearted. In a lot of ways that make her extremely appealing to read and to write," Soule said. Her law practice, he promised, would be rife with cameos from all over the Marvel Universe.
The time between the Marvel and DC panels was filled with a presentation on Falling Skies, TNT's alien invasion drama, which I opted to stay for rather than give up my seat. I've never watched a single minute of this show; even though it appears to have promise, I had no idea what they were talking about. Except when Doug Jones, who plays an alien, mentioned his recent scene on Sons of Anarchy with Ron Perlman. "I know it's not the Hellboy reunion you were hoping for," he said to laughs from the crowd.
The Belgians, who had left before the Falling Skies panel, found seats next to me again as the DC All Access panel began. With no offense to the other talent on the stage, this was basically the Scott Snyder show, with nearly every audience question directed toward him. Snyder spoke about Batman: Zero Year's progress thus far and his fears of how a revamped origin would be received. "When we announced we were doing an 11-issue origin, everyone was like 'Is it gonna be like pearls falling for two issues?' It was about making something that was totally bad-ass and modern, where you've never seen Batman look like this, act like this."
Talking about The Wake, Snyder's aquatic horror book for Vertigo, the author said that the forthcoming fifth issue "closes out the first half of the story, with a kind of cataclysmic transformative thing that happens." The next half, he said, would answer a lot of questions from that primitive past that's been flashed thus far. The second part of the series, he added, is a "huge post-apocalyptic fairytale adventure; the ocean is full of nightmares."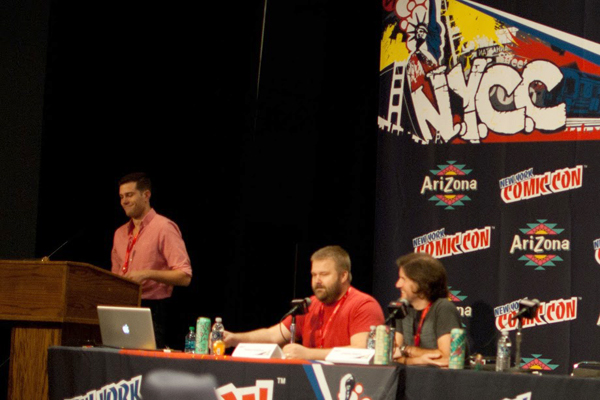 Ultimately, all of this led to The Walking Dead panel, which was well worth the four hour wait. The Belgian contingent left to get some more floor time in and catch a different panel, which made me realize just how long I had been in that chair. Writer Robert Kirkman and artist Charlie Adlard talked briefly about the "All Out War" story arc that just launched with issue #115. But the majority of the time seemed devoted to questions from the crowd and unbridled sarcasm. Kirkman would often mock-reveal fake spoilers, like "Well, since we introduced dragons in issue 118" or, my personal favorite, "especially when Rick died in this last issue." When asked what fictional weapon he'd like for killing zombies, he seemed tossed up between light sabers, Darkseid's anti-life equation, and Bill and Ted's phone booth. Other revelations were more straight-forward, like "I really like making up terrible people. It's a lot of fun to write someone who does good things all the time, but it's even more fun to write someone who does the absolute worst possible thing you can think up."
When it was all said and done, my legs barely worked and my knees may as well have been made out of Legos, but it was worth it. The exchanges between Kirkman, Adlard and the fans were light and conversational. Where the Marvel and DC panels had a stronger air of marketing, this felt like it could almost have been a conversation between a few people at a bar. But the few people are actually hundreds of insatiable fanatics and the bar is actually a sunless auditorium in a sub-level of the Jacob Javits Center. Oh, and when the conversation is over, Kirkman has to run away backstage to dodge a rush of freakishly swift autograph-seekers.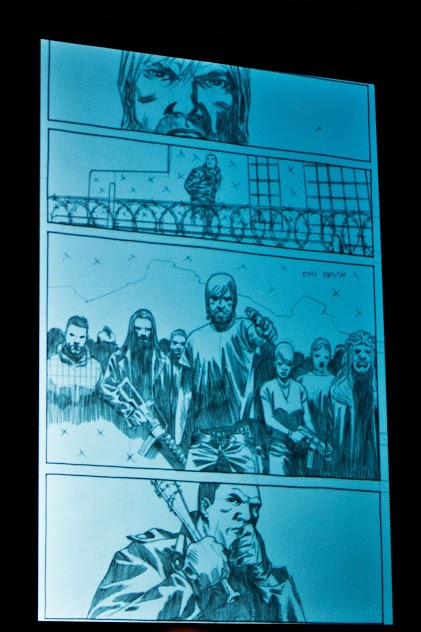 Others Tagged With