Nostalgia Drunk at New York Comic Con 2013
Page 2 of 2
Day Three: The Ghost & The Captain
I needed to spread my wings a little more by Day Three, which is how I discovered the Teenage Mutant Ninja Turtles display. I had seen the big sewer cap sign hanging above it — how could you miss it? — but figured it was set up as a promotion for the current Nickelodeon cartoon. Boy was I wrong. In reality, it was a shrine to my boyhood. Displays of vintage Ninja Turtle action figures, all in their original packaging. Suddenly I was looking at toys, not only that I played with 20-something years ago, but had forgotten all about. From Walkabout, the boomerang-wielding Aussie kangaroo, to Genghis Frog, with his party shirt and neckless frame. And I wasn't the only who saw this museum to his or her childhood and went bonkers. The whole scene was peppered with gasps, people covering their mouths in amazement, cries of, "Oh man, Bebop!" or "Oh my God, look at that one!"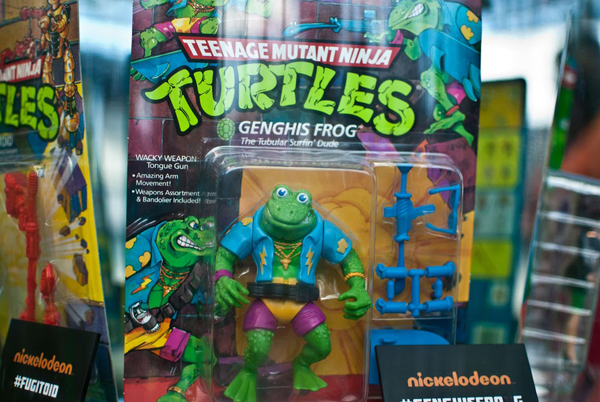 The above scenario occurred in the bright, naturally-lit front of the convention. I eventually ventured down to one of the lower levels and had a chat with Joshua Williamson, author of Image's Ghosted and Dark Horse's Captain Midnight. I had met him briefly on Thursday at the Image booth while Goran Sudzuka sketched a monster on my copy of Ghosted #4. Williamson had a few minutes to kill before his panel started, so we sat on the ground in a relatively quiet corner near what seemed like a loading dock door and talked about the future of Ghosted, and why Captain Midnight is so mad.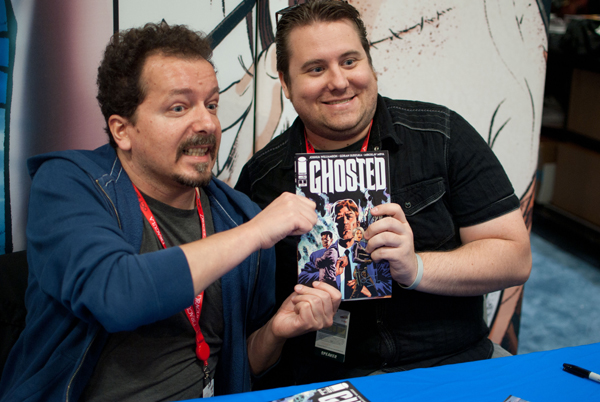 "I don't want to ruin it for anybody, but crazy stuff happens in issue five (of Ghosted)," he said. "Five is a game changer." The pitfall that the series seemed bound to fall into was maintaining its ongoing-ness after the initial "steal a ghost" story arc. Williamson explained that there would be another job, but the house will continue to haunt them even after they leave. He also mentioned that issue eight is his favorite so far, though he declined to share why. Wrapping back around to issue five, though, which he is (also) very excited about… "There's one death in five I already know people are going to be mad about," he laughed.
Williamson discussed the differences between his two simultaneous leading characters, Ghosted's Jackson Winters and Captain Midnight. Where Jackson is a modern guy with a retro flare, Captain Midnight is the retro streak in a modern world. They have starkly disparate motives. "Jackson is much more calm and quiet. He really wants to be left alone and doesn't care about anybody but himself," Williamson said. "Captain Midnight does care. Cap is upset because he had this vision of the future, and someone stole that from him. When he comes to present day and it's not here, it really pisses him off."
The line that had been awaiting the Skybound panel started to file into the auditorium, signaling Williamson that time was up. As he walked away though, he teased an apparently overlooked clue to the Ghosted plan. "There's actually some stuff in issue one that I'm wondering if anyone's ever going to figure out," he said, with a knowing smile. "There's a huge clue in there, but no one's ever mentioned it to me. No one. It's crazy."
Returning back up to the daylight, there were some great cosplayers. Two girls dressed as the anime duo Stocking and Panty garnered so much attention that they basically held a continuous pose as a shuffling rotation of admirers asked for photos. Elsewhere on the floor, a Macho Man Randy Savage screamed himself hoarse into people's video cameras. There was a couple, Chris and Paulette, dressed as Lex Luthor and Brainiac. "No one's ever seen a female Brainiac ever, as far as I can tell," said Paulette. Then there was a woman dressed as Kaylee from Firefly, who not only nailed the coveralls and parasol, but also looked so much like her physically that a second glance was required. And of course there was the group that took group costuming to new heights with a huge band of a dozen X-Men, including an authentic looking Jubilee and an Archangel with at least an eight-foot wingspan.
Day Four: Nostalgia Hangover
Day four seemed the most packed, the kind of crowded that reminds one why a massive group is called "a crush." Maybe the bargains drew the human flood, knowing that exhibitors have precious little time to unload their wares. It also means precious little time for us to cover all our bases. Final considerations abound: should I grab those Saga paperbacks here or wait? Where was that Frankenstein shirt I saw the first day? Do I really need this little TARDIS?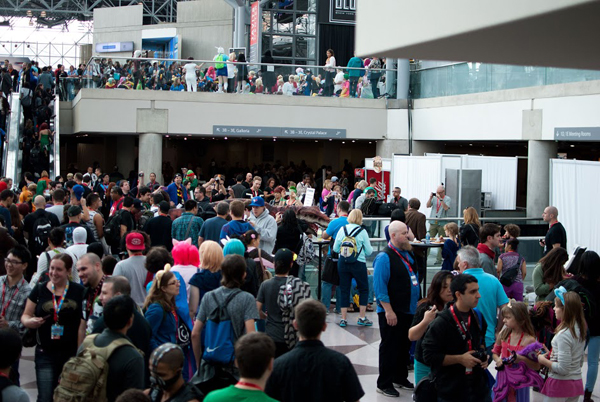 As I made a final round of the floor, I happened by Taimak's booth again. He appeared unfazed by four days of autographs and photos, and was in fact demonstrating some martial arts with a fan. I can only assume that this exchange was prompted by the fan shouting "Can you show me some moves!" just as an inconvenient hush fell over the crowd.
I got the chance to talk to a few friends about their convention experience. For one, who came up from Florida, the convention was a chance to catch up with friends he hadn't seen, but he also had his eye on toys, particularly the NYCC exclusives. He managed to get the pink Beargguy from Gundam and a gold Ryu by Kidrobot, but missed out on the Walter White and Creature From the Black Lagoon exclusives at the Mezco booth. For another friend, the experience was the same mix of sentiment and shopping. He went to pick up art from up-and-coming artists, and per this year's obsession he and his wife share and stock up on Funko POP! Vinyls (In this case: The White Power Ranger and a Jack Skellington & Sally set).
Before leaving for good, I made a point to check out the big Superman display that I'd been putting off all weekend. With the Last Son of Krypton celebrating his 75th birthday this year, DC showcased many of the onscreen costumes from Superman's various incarnations over the years. Henry Cavill's black suit is pretty slick, and I had kind of forgotten all about Dean Cain, so it was great to see those. But the Christopher Reeve suits really took the cake.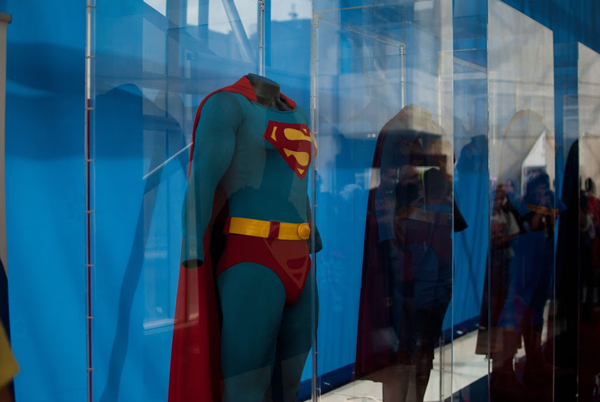 It's funny how four days of Comic Con skews your perception. No matter where I was, I was scanning the crowd for costumes and found myself kind of disappointed when I realized that no one in that particular TGI Friday's was wearing wings or spandex. And the guy I saw the next morning with an eye patch wasn't cosplaying Solid Snake. All of which I guess can only mean one thing: nostalgia hangover.
Others Tagged With