Those Darlins: Blur The Line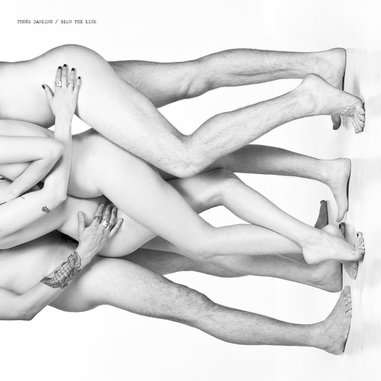 On their self-titled debut, Nashville's Those Darlins were more schtick-merchants than songwriters, setting bad-girl hoots and hollers to ramshackle cowpoke-punk. But they evolved splendidly with the more fine-tuned sequel Screws Get Loose, the moody hangover to their debut's drunken barroom blitz. With its psychedelic guitar ooze and textured production, that album expanded their sonic playbook, smoothing over some of their rough edges without sacrificing their trademark snottiness. Blur the Line burrows deeper into that sonic realm—with mixed results.
"I was a drunk girl in the shower / In yet another shit hotel," sings Jessi Zazu on opener "Oh God," a smoke-ring voice billowing through dreamy electric guitars. On Those Darlins, that lyric would have kick-started a tale of whirlwind debauchery; here, the words tell a more depressing version of that story—a road-beaten vagabond drifting through days of lonely ashtrays and soiled mattresses. It's gripping stuff, topped off by a climactic guitar solo that pierces the fog like lightning.
There are similar bursts of catharsis throughout: the gnarly blues-rock surge of "In the Wilderness," the surprisingly pop-savvy "Baby Mae" (with its tambourines, chorus harmonies and handclaps). These tracks showcase a newfound sophistication, proving Those Darlins can be fun without being reckless. But, despite the impressive breadth of their ambition, not all of the experiments stick. On Screws Get Loose, Those Darlins sounded excited by their own eclecticism, tinkering with new influences subtly and seamlessly—but on Blur the Line, the band takes a broader approach, dividing tracks into individual genre touchstones (the tone-deaf doo-wop of "That Man," the anonymous jangle-pop of "Western Sky," the blaring roots-rock twang of "Ain't Afraid"). Meanwhile, the band often sounds lethargic, swallowed in the sprawl of the album's monochromatic, reverb-heavy mix.
"When she's good, she's great / When she's bad, she's even better," Nikki Darlin sings on "Baby Mae." In the band's reckless early days, that could have been their slogan. Today, it's a fitting reminder: As Those Darlins know quite well, "good-er" doesn't necessarily mean "better."
Others Tagged With