The Goldbergs Review: "Mini Murray" (Episode 1.03)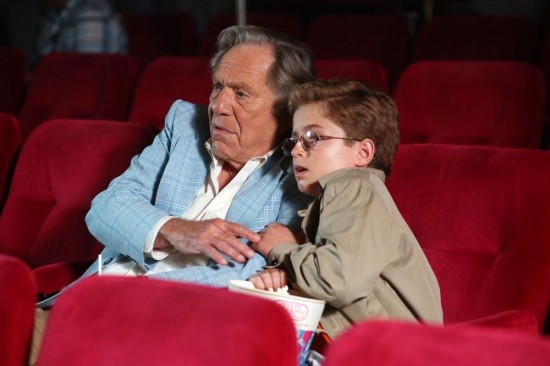 Three episodes in and it's hard to tell if I would still be keeping up with The Goldbergs on a weekly basis were I not reviewing it for Paste. "Charming" is an adjective I've no doubt overused in my description of the show, but it's one I stand by. Everything, from the writing to the performances to the obligatory emotional wrap-up set to a popular '80s tune (this week it's "Sister Christian") boasts a sincere, good-hearted sentiment that makes me want to love the show more than I actually do.
As countless other sitcoms have proven over the years, however, charm can only get you so far. With its first formative episodes, The Goldbergs' biggest weaknesses have been its repetitive story beats and somewhat one-(occasionally two) note characters. A funny, if unfocused episode, "Mini Murray" certainly highlights that latter issue.
After last week's episode got some good mileage out of her character, Hayley Orrantia's Erica is unfortunately all but sidelined this week in favor of Troy Gentile's Barry. To be clear, it's not that I dislike Barry. Far from it, Gentile is clearly putting his all into the role and demonstrates a boisterous sense of comedic timing that truly makes him feel like Jeff Garlin's kin. Nevertheless, his character seems to be little more than a vehicle for the writers to pen outrageously over-the-top behavior. He's become the "Winston" of the show, if you will (see New Girl). Besides his ongoing devotion to hip-hop, whether it be the doctrine of Flavor Flav or his own rap career as "Big Tasty," Barry's defining interests thusfar have been somewhat varied. Last week, it was roller rink skating; this week, it's becoming a professional basketball player.
This admittedly unrealistic aspiration provides the catalyst for the week's A-storyline. When Barry's attempt at getting a pair of Reebok Pumps from his parents falls on deaf ears, Murray offers him the chance to earn money the old-fashioned way: working for him in the furniture store. Though Barry proves to be a keen salesman, Murray becomes a bit disturbed when his son begins picking up his habits as well as his fashion sense. This subsequently leads to a odd scene where Murray fires Barry, who proceeds to throw a fit and threatens to establish his own furniture store. Being that we know so little about the character other than his crazy quirks, it becomes a bit murky whether Barry is just mouthing off in anger or if he legitimately has some means of doing what he says (perhaps through connections in Philly's underground suburban hip-hop scene?). All in all, the central gag comes off as more confusing than humorous. Also, here's hoping they bring back Reno 911's Cedric Yarbrough as Murray's Jheri curl-toting fellow employee Vic, because he's terribly underutilized here.
On the Adam front, we are handed yet another Beverly-learning-not-to-smother storyline. The situation starts when Adam defies his mother by having Albert to take him to a screening of Poltergeist on the pretense of it being The Great Mouse Detective (note: a horrified George Segal's reading of "where the f@#k was the mouse?!" at the end of the screening marked the biggest laugh for me so far this season). Too terrified to sleep afterwards, Adam swallows his pride and climbs into his parents' bed, much to Beverly's delight. Though she quickly realizes that Adam has disobeyed her orders by seeing Poltergeist, Beverly enjoys feeling needed and proceeds to fill her son's room with creepy dolls and ominous hidden recordings to keep him coming back. Crazy behavior aside, this storyline proves to be an improvement from last week's clothes-themed subplot. Once again, these Beverly stories already are growing stale and I greatly look forward to the writers shifting up the dynamics and having Beverly play off someone else for a change. Here's hoping the inevitable mother-daughter clash of Beverly and Erica comes sooner rather than later.
So just as every episode concludes with a proverbial '80s pop song to soundtrack the resolution, I end my review the same way I've ended this past two—hopeful and satisfied enough to keep watching the show, yet wary that its premise is veering dangerously close to wearing thin.
Also let me state, for the record, certain scenes involving the Vincent Price-voiced Professor Ratigan in The Great Mouse Detective are just as scary, if not more so, than Poltergeist. Just saying…
Others Tagged With