The Good Wife Review: "Outside the Bubble" (Episode 5.04)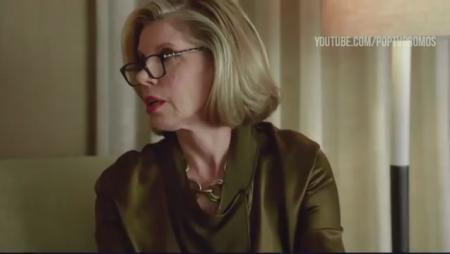 Like Diane's exquisite green dress, "Outside the Bubble" was absolutely perfect.
In these early season five episodes, the drama has built nail-biting, can't-miss-a-single-moment suspense about Alicia and Cary's impending departure. I was screaming at the TV, "That's right, Diane. Figure it out!" when Diane paused after realizing Alicia was trying to download one of her case files. When Diane returned to the office at the end of the hour, I wasn't sure what she was going to do. Try to align herself with Alicia to secure a position in case her judgeship falls through or be loyal to Will who unceremoniously ousted her last week? Right up until her excellent icy stare at Alicia, I thought it could have gone either way. And that's the genius of The Good Wife. I never know where the show is going to take viewers next.
Diane remained loyal to firm she started and uttered the sentence that will change everything: "Alicia's leaving the firm with Cary, and she's taking our top clients." The hour belonged to Christine Baranski, who was utterly fabulous in the episode. Diane dealt with her liberal friends' intervention about her marrying Kurt McVeigh. ("If I fall into a life of addiction, then please do intervene," she tells them.) She met Kurt's (very young and very giggly) friends and impulsively decided to marry him the next day in the courthouse. And she cleverly got her client to admit that Alicia was, in fact, forming her own firm.
Carrie Preston also returned as the ever-fabulous Elsbeth Tascioni (Preston won an Emmy for this fabulous role last month). The firm is being sued for sexual harassment by one of the paralegals and retains Elsbeth to represent them. Elsbeth is at her best—envying Kalinda's hair, obsessing about walking a certain amount of steps each day, suddenly realizing that she's hungry. And she easily outsmarted Viola Walsh (Rita Wilson in an equally welcome guest-star return).
The case leads to a fabulous conversation between Will and Alicia where they recall their trysts in Will's office. Even when those two are just having a conversation their chemistry is smoldering. Just like Will, I won't soon forget that tête-à-tête.
Everything about this episode was a pure delight: The music, which dramatically crescendoed at the right times. The amazing guest stars. The return of Peter's mother Jackie and her ongoing rivalry with Eli (although I do wonder where Cristian is?) And so much action is in play. Will Diane get the Supreme Court appointment now that she's married a right-wing gun enthusiast? Will Alicia and Cary successfully leave the firm? What will happen when everyone finds out Kalinda knew what was happening all along?
Other thoughts on "Outside the Bubble":
• I hope the show never gets rid of Howard Lyman. He's the inappropriate best.
• Did Jackie have an affair with Kevin Arnold's dad? The show certainly seemed to imply that.
• How many doubts do you think Alicia is having about leaving the firm? I bet she never saw herself trying to furtively download client files. Or having to reprimand someone for illegally sharing privileged information.
Others Tagged With