The Waitresses: Just Desserts: The Complete Waitresses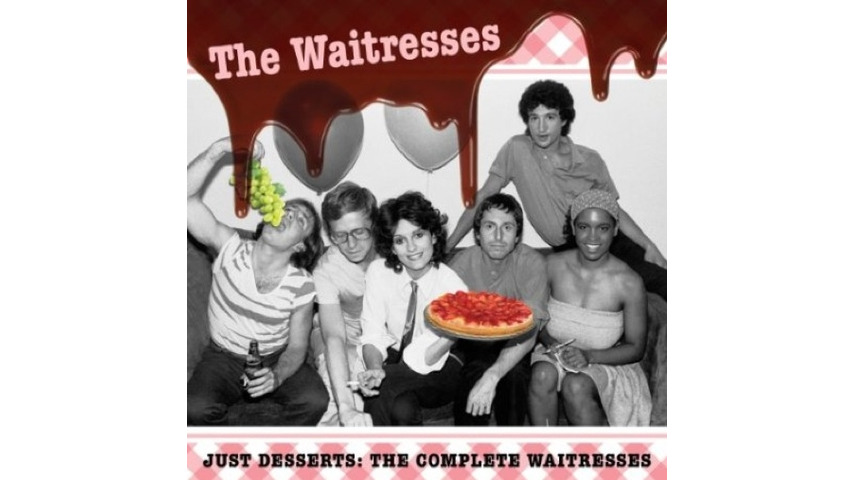 I'm not certain that Patty Donahue ever worked as a waitress and I'm certain Chris Butler would have been classified as a waiter, but the Waitresses is the perfect name for their band, which enjoyed a short run and a few minor hits in the early 1980s. Donahue sings like she's been on her feet a few hours too long, barely containing her contempt at the lunchtime rush and hoping for a big tip. She sings with a sharp, colloquial sneer that that would be Valley Girl if she was from the West Coast, but as an Ohioan transplanted to New York, her voice conveys self-possession in the face of banal crises and perhaps condescension toward the opposite sex. On songs like "I Know What Boys Like" and "It's My Car," both from the Waitresses' 1982 debut, Wasn't Tomorrow Wonderful, you can actually hear Donahue rolling her eyes.
No one grows up dreaming of taking orders and sporting flair; it's a job you more often fall into. And that's pretty much how the Waitresses came about: Chris Butler, guitar player and chief songwriter, conceived the band as a joke over coffee at a Perkins, which means he didn't have to look too far for inspiration. The band took on a life—or at least a shift—of its own, as Butler found it freeing to write for an imaginary character. He met Donahue in a bar when he asked for volunteers to sing; she had no training or experience, but she had had a few beers, so she raised her hand. Butler moved to New York, discovered that "I Know What Boys Like" was an underground hit, so he paid her bus fare out of the Buckeye State. If that song was almost an accident, then "Christmas Wrapping" was a complete lark, penned to fill space on a label holiday sampler. Thirty years later, it remains one of the few Christmas songs that doesn't make you want to chuck coal at carolers.
The band only lasted a few years, two albums and one catchall EP before breaking up. But 30 years later, on Omnivore Records' 2xCD set Just Desserts: The Complete Waitresses the band sounds much more revelatory than they would have in the early '80s: funnier, grittier, more imaginative, more daring. Musically, their debut perfected a weird-ass art-ska-punk-wave sound that percolates nervily, punctuated by stabs of sax (courtesy of Ralph Carney, uncle to Black Key Patrick Carney) and illuminated by bursts of unexpected grandeur, as though the Waitresses have both the English Beat and the E Street Band in their section. On "No Guilt," as Donahue rattles off all the things she's done since getting dumped, drummer Bill Ficca (formerly of Television) hits the cymbals to turn her observations into punchlines: "The 31st is when I pay the phone bill / I told them I didn't even know anybody in Toronto!" She's not just hiding wounds either or kidding herself; when Donahue sings "I'm sorry I never got suicidal," you not only believe her but cheer her on.
Wasn't Tomorrow Wonderful crams so many ideas into its 40 minutes—the wonky groove of "Pussy Strut," the stuttering girl-group call-and-response of "It's My Car," the withering nyah-nyah-nyahs on "I Know What Boys Like"—that you might think the Waitresses never expected to make a second album. But they did, and Bruiseology (and, by extension, the second disc of Just Desserts) suffers for sounding so streamlined and so rehearsed. The production is slicker, the grooves too jittery for musical nuance. The band careens past punchlines and insights alike, yet there's a nervier attitude to songs like "Thinking About Sex Again" and "Bruiseology," which sound more conflicted and less confident—as though shit got real between albums.
Without diminishing Butler's role, the Waitresses was clearly and completely Donahue's band. How could it not be? She shows a flair for the sardonic and a surfeit of charisma as she turns Butler's character-based lyrics into a full and fascinating persona. The Waitresses may be too obscure to be much an influence, but you can hear shades of Donahue in riot grrrl and Girls, in Kitty Pryde and even the Parquet Courts' lost-in-New York ramblings. Sadly Donahue died from cancer in 1996, which makes Just Desserts a moving memorial to a woman who sounded most collected when the music was most anarchic. She caps "Jimmy Tomorrow" with an ambitious missive: "My goals? My goals are to find a cure for irony and make a fool out of God!" For a moment she sounds like she could actually achieve that mission.
Others Tagged With