Tim Burton Offered Director Spot for Beetlejuice 2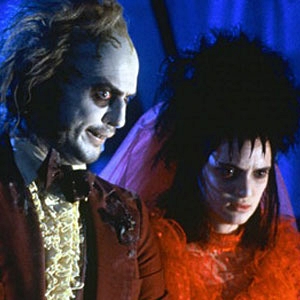 Warner Bros. has extended to Tim Burton an offer to direct the follow-up to his 1988 hit Beetlejuice, according to THR. The sequel was already given the green light last year when Seth Grahame-Smith and David Katzenberg agreed to write the film's script, but Burton's return to the 25-year-old tale would certainly bode well for finally getting the project off the ground. Grahame-Smith was initially wary to do the film without Burton's approval, which the iconic director eventually did back in 2011.
"When Warner Bros. came to us about it, we said the only way we'd do it if we got Tim [Burton's] blessing and involvement, and we got that," Grahame-Smith told Entertainment Weekly. At the time, Burton was already on board for the sequel as a producer. The only question that remains now is whether Michael Keaton will return for the titular role of Beetlejuice, which Grahame-Smith said in his 2011 interview was contingent on finalizing the script and sending it to Keaton.
"We're not there yet because we don't have a film to present to [Keaton]," he said. The script is a draft at this point, and will in all likelihood be sent to Burton before he makes a decision on his directorship.
Got news tips for Paste? Email news@pastemagazine.com.
Others Tagged With