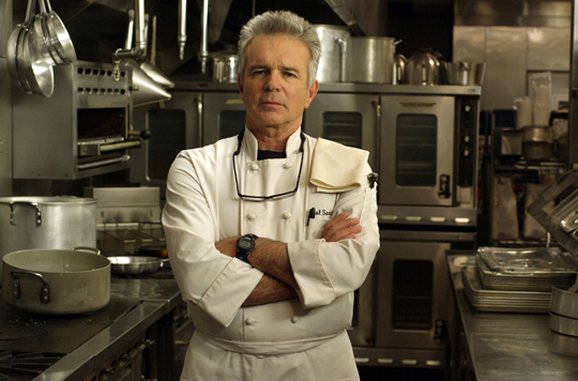 Movies about food are often successful when the chef onscreen not only make audiences' mouths water, but also convey emotion behind every chop, stir or toss. Think of the life-altering meal for ascetics in Babette's Feast, the cooking of Sunday dinner as a father's way of communicating with his family in Ang Lee's Eat Drink Man Woman or even the sheer joy of cooking exhibited by Remy in Ratatouille.
Trattoria, by first-time feature film director Jason Wolos, does an admirable job in capturing the pressures that restaurant owners are often under—torn between family obligations and keeping their businesses in the black. But it's missing a key ingredient—passion—not only in a few of the kitchen scenes, but also in a key performance.
The film tells the story of an estranged father and son who try to repair years of emotional damage between them. Chef Sal Sartini (Tony Denison) and his second wife Cecelia (Lisa Rotondi) have just opened their latest restaurant, Cinquecento, in San Francisco's North Beach neighborhood. A veteran of the industry, Sal understands that he needs to work out the wrinkles in the new operation quickly before the critics come.
The arrival of his 20-something son, Vince (John Patrick Amedori), from "back East" is another kink in the system that needs addressing. The two are practically strangers, evident when Vince arrives from the airport in the middle of a staff meal. Father and son aren't sure whether to shake hands or hug, and instead of staying with his dad and Cecilia, Sal has arranged for Vince to stay with one of the restaurant's workers instead.
All Vince really wants to do is cook, in hopes of getting to know his dad better and earning the love and respect he never got while growing up. It's a bit of a cliché, yes, but it probably resonates with many adult children of divorce. Vince is a nascent talent in the kitchen, who learned to cook by following Italian comfort food recipes left in his grandmother's cookbook. Sal eventually gives his son a chance to work alongside him as a sous chef, but he has little patience for training. The sniping and the criticism begin, with the two falling into old habits. Sal's workaholic tendencies, which ended his first marriage to Vince's mom, are pushing his son away. The past is about to repeat itself unless Sal realizes that there's something even more important than food.
Anyone who's worked in foodservice (or even watched episodes of Top Chef or any of Gordon Ramsay's TV shows) knows that owning a restaurant isn't easy. The industry is full of hot-tempers, egos and neglected family and friends, but in any good eatery, the love of food still shines through. Wolos doesn't go far enough in depicting either man's zeal for cooking; there's a disconnect from the food in the film's kitchen scenes.
Denison is solid as the chef who chose his restaurant over his first family, but there's not much counterpoint to be found in Amedori's impassive performance as Vince. His countenance remains the same throughout the film—never straying from the cool, standoffish hipster (complete with messy hair, mustache and goatee) who pretends that he doesn't need his father's love. The range and nuance needed for this character just isn't there.
The supporting performances by Vince's love interest Anna (Kandis Erickson), the restaurant's head server, and Rotondi as his stepmom Cecelia, bring much needed heart to the film. Their characters' passions—Anna's love of food and her unwavering support of Vince, Cecelia's love of family—add a spark to a sometimes listless story. The men in their lives could take a lesson from these women, both in and out of the restaurant's kitchen.
Director: Jason Wolos
Writer: Jason Wolos, Dawn Rich
Starring: Tony Denison, John Patrick Amedori, Lisa Rotondi, Kandis Erickson,
Release Date: Sept. 17, 2013
Others Tagged With