Tröegs Scratch #116—Fresh Hop Ale Review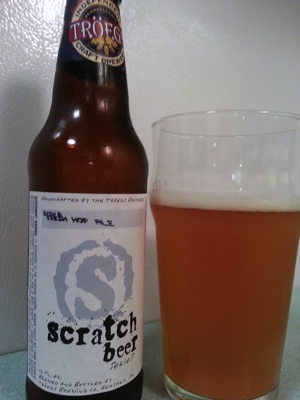 Yakima Valley isn't just for wine, folks.
For the Scratch #116—Fresh Hop Ale, Tröegs shipped 400 lbs. of wet Chinook hops from Yakima Valley, Washington. An impressive detail is that the day the hops were harvested and packaged, they arrived in Pennsylvania—2,214 miles later—and were unloaded into the brewery and used almost immediately. I hate to spell it out, but… Fresh. Hop. Ale. Nuff' said.
For those of you who have had Tröegs Perpetual IPA, you will notice a similar nose. The color is a golden-orange, and I would compare it to many of the citrusy IPA's on the West Coast. The 8% alcohol is well-hidden until the beer warms, and the bite was calmer than I expected from the combination of fresh Chinook, Amarillo, and Nugget. There is also a blend of citrus and spices with just a dash of honey that create a subtle sweetness at the back end. Overall, a nicely layered ale.
The Fresh Hop Ale is an annual beer at Tröegs Brewery and is available for a limited time in six packs, cases, and on draft at the brewery in Hershey, PA.
Brewery: Tröegs
City: Hershey, Penn.
Hops Used: Amarillo, Chinook, Nugget
ABV: 8.0%
IBU: 61
Others Tagged With