Burton and Taylor, Starring Helena Bonham Carter, to Premiere on BBC America Tonight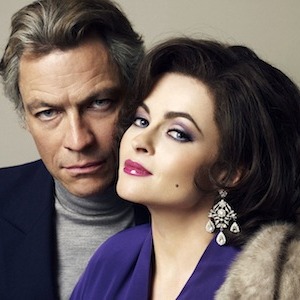 Yes, television is once again revisiting the volatile love affair of Elizabeth Taylor and Richard Burton.
But this time Lindsay Lohan is nowhere in sight. Helena Bonham Carter plays the iconic actress in Burton and Taylor, set to make its premiere tonight at 9 p.m. on BBC America.
"My mother said, 'For Christ sake don't even go near it. Don't touch it with a barge pole because she's a screen icon,'" Carter told reporters in a conference call last week. "Everyone knew what she looked like. And I didn't look especially like her."
But intrigued by the script and encouraged by her friend, producer Lil Heyman (who was Taylor's goddaughter), Carter decided to accept the role. "It was almost because I didn't look like her I thought, 'Okay this is an opportunity.' I want to explore what she looked like on the inside as it were."
Carter, who has not seen the 2012 Lifetime movie starring Lohan, did extensive research for the role and learned much about the actress who passed away in 2012. "I didn't realize how funny she was. She was such a clown," she said. "And there's these photos of her clowning around. . . that gave me a sense of her playfulness. I mean, she had fun and she made people laugh and she was a real life enhancer."
The movie follows Burton and Taylor during their 1983 revival of the play Private Lives. The two former lovers toured the country to critical pans. It was the last time they shared the stage together. Burton passed away unexpectedly in 1984.
Screenwriter William Ivory wanted to revisit this period of their lives because he was fascinated that Burton would agree to reunite with Taylor after years of dysfunction, alcoholism and addiction.
"It didn't really make any sense from his point of view to have taken on this challenge," Ivory told reporters. "I just couldn't work out why he'd kind of done what he did . . . is love a drug? You know, is it the ultimate drug? Is he walking into the saloon for one more slug or was it more?"
Carter even consulted her astrologer friend to get more insight into the pair's epic on-again/off-again romance. "There was a really healthy side to the relationship. It wasn't just all one long drink party," she said. "I would have been interested to see if had he lived longer whether they would have ended up together, whether they could ever do each other sober."
Got news tips for Paste? Email news@pastemagazine.com.
Others Tagged With