Lollapalooza 2011 Day One Recap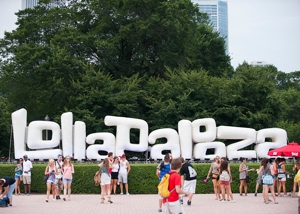 To say that Lollapalooza has undergone some changes since its first year in 1991 would be an understatement. What started out as a touring festival has evolved into an annual Chicago staple, and 20 years after Perry Farrell and friends kicked things off, things are still in transition.
Expansion seems to be the name of the game. It was announced yesterday that in addition to the American and Chilean incarnations of the fest, Brazil will host its own Lollapalooza next year. Meanwhile, the Chicago festival is growing; this year promises to be the biggest Lollapalooza ever, with an estimated 270,000 expected to attend the sold-out event. The grounds have expanded, and the Perry's stage—which started as a small DJ area—is now a behemoth of a dance tent (as Perry himself said in a morning press conference, "We believe that the dance artists are just as important as the rock 'n' roll artists and the pop artists").
But is bigger necessarily better? It seems so, if Friday's sets are any indication. Wye Oak kicked things off on the Sony stage, and after being temporarily derailed by technical difficulties ("This is the worst thing that's ever happened to me," an agitated Jenn Wasner told the crowd), they managed to bounce back and start things off right. If Wasner was thrown by the sound problems, she certainly didn't let it register in her voice.
Sound definitely wasn't an issue for The Vaccines. The London group's driving guitars echoed across the field along with Justin Young's vocals. Their music's more suited for after hours at a packed club, but they delivered tracks like "Post Break-Up Sex" and "Norgaard" in the afternoon sun with no trouble. It's easy to slap the dreaded 'derivative' label on these guys (it's impossible to hear them and not also simultaneously hear groups like The Ramones and The Strokes), but their live show was so strong that I don't particularly care how original they are—or aren't—and neither should you.
Delta Spirit's set was raucous, but a bit of a tease: their 40 minutes on stage went by quickly. The Long Beach, Calif. natives brought the energy, with frontman Matt Vasquez climbing on top of a piano during "Trashcan"—which also appropriately featured band members banging on a trashcan lid to provide a little auxiliary percussion.
The best performance of the day, however, had to go to The Kills. The duo's raw, gritty sound somehow extends far beyond their guitar-and-drum-machine setup. Clad in a long-sleeved button-down and black jeans, Alison Mosshart sneered and sweated her way through the show. The heat was palpable in more ways than one—as the sun beat down, Mosshart and Jamie Hince delivered the sultry rock 'n' roll they're known for, tearing through "U.R.A. Fever" and "Baby Says" and exchanging the kinds of looks that suggest Hince should have married Mosshart instead of Kate Moss. Mosshart didn't let the warm weather get to her. She only slowed things down briefly for a stellar version of "The Last Goodbye."
Day one of Lollapalooza's officially in the books, and besides a few minimal hiccups (Girl Talk's Gregg Gillis, upset about having his set cut short, declared that he wasn't a fan of the new Perry's area, saying, "I want to play on a stage like a band") things got off to a strong start. Check out Meghan Brosnan and Josh Darr's photos from the festival below.
Others Tagged With