2011 Austin City Limits Day One Recap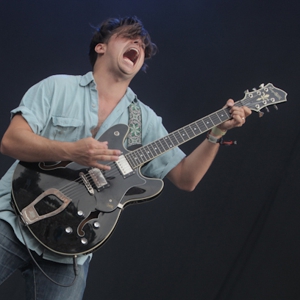 Two Texas storms helped kick off ACL Fest on day one. First, the drought-stricken 'Live Music Capital of the World' was blessedly drenched in a brief, sunny rain.
Later, shortly before sunset, Gary Clark, Jr. stormed the BMI stage with a blistering blues and rock-drenched performance that drew in the hoards who were on their way to the bigger, headliner stages positioned on opposite ends of Austin's Zilker Park. Like a welcome rain, Clark has arrived.
Often overheard during Delta Spirit's jubilant set: "Who are these guys?" Rocking and sounding tighter than I've ever heard them, "Ode to Sunshine" was the perfect accompaniment to the cooled down, post-rain afternoon.
Foster the People frontman Mark Foster passed a boot around urging an enormous audience to donate to ACL fund benefiting firefighters and victims of the devastating Central Texas fires that destroyed 1,500 homes over the past two weeks. Fans of the infectious "Pumped Up Kicks" were not disappointed when the band closed with one of the most covered tunes at the festival, like Electric Touch who melded a version with the Stones' "Satisfaction" during their set earlier in the day.
With Nottingham, England native Shane Lawlor revving the crowd up with his Brit-tinged vocals most of the audience assumed Electric Touch was just another great English beat, punk band. But Lawlor and his Texan bandmates hail from Austin. Judging from the reactions ("They were quite into it, weren't they?" Lawlor later related), they did their hometown proud.
Notes:
In addition to their ACL Festival performance, Coldplay celebrated 2012 Thursday night with their taping of an Austin City Limits TV episode set to air on New Year's Eve. Look for a Paste review during the holidays. "How was your Christmas?" asked Chris Martin who, along with the band, charmed the Moody Theater audience with neon and confetti.
The Head and the Heart also taped an episode on Friday. Charity Rose Thielen and the band were Heaven sent. Catch them at ACL Fest Sunday at 1:30 p.m. Stevie Wonder and My Morning Jacket headline tonight. Lastly, take time to feast on a 'Mighty Cone'—crispy chicken goodness — just one of my foody favs at ACL.
Check out Mark C. Austin's photos from day one at Austin City Limits.