Harvest Music Fest 2011: Day 1 Recap & Photos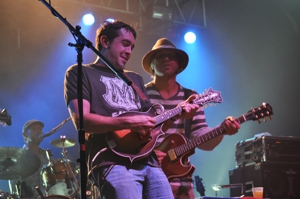 The conglomeration of bluegrass, young blooming families, hula hooping hippies and toothless grins that is Yonder Mountain String Band's Harvest Music Festival may take place at the same arborous mountain valley as Wakarusa, but it is most certainly not the same party. Harvest is like a small, dancing community that is a haven for music lovers of all ages. The average reveler arrives at Mulberry Mountain, hangs his hammock, thanks the sky for the perfect weather and is beckoned to the barn-like Main stage by the twang of a banjo, or to the intimate Backwoods Stage for smooth tones under a canopy of oaks.
Ben Miller Band, Matthew and the Atlas and Todd Snider were among several artists to kick off this year's Harvest Fest, and of course Yonder got down at their first of three weekend performances on Thursday. Even festival-goers had the chance to grace the stage at the First Annual Fiddlin' and Pickin' Contest.
As the sun goes down on Mulberry Mountain, members of the 7,500-strong Harvest Tribe surround camp fires and stomp their feet to the beat of an upright bass. Light-up hoops and fire dancers spin on the ground as flaming lanterns and twinkling stars fill the sky. Inspiration cannot help but be gained from Yonder frontman Jeff Austin's facial expressions as he enters an almost spiritual realm, where all that exists is his mandolin. Ben Kaufmann is the backbone of the band as he slides nimble fingers over his personally-crafted bass. Adam Aijala's stoic guitar stance sends a calming vibe over the crowd, and Dave Johnston brings the funk with the pick of his banjo.
What exactly does a banjo bring, after all, if not funk?
Others Tagged With