Treasure Island Music Festival Recap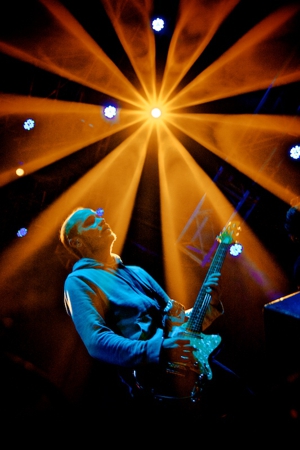 Treasure Island Music Festival celebrated its fifth birthday this past weekend, and effectively solidified its reputation as one of the best music festivals in the great Golden Gate state. With so many fests sprawling five or six stages deep these days, Treasure Island maintains a small and local identity—with just two stages and locally derived art and amenities, this is one for the residents of the Bay, and as such, a sense of intimacy and community is cultivated all weekend long. You can park it in one spot the entire time and revel in every detail of the festival experience, all while running into every one your friends, watching at least a part of every single performance, interacting in all the art and extras, and supporting the local craft culture via the killer vending.
If you're in the market for a fun-filled weekend of music, eye candy, blissful sunset vistas, and costumed company, you can not do any better than Treasure Island. Saturday was the dance-oriented day, with billing that ranged from hip-hop to soul to dance-punk, and as such, the atmosphere was party hardy from the get-go, while Sunday's vibe was mellow, with people sprawled out on blankets, marveling in the glorious Indian summer sunshine.
The highlights were soaring and eclectic, each one indicative of what makes this fest stand out. Here are our most definitive moments of Treasure Island 2011.
Saturday
Most well-received ubiquitous HBO anthem:
Early on Saturday afternoon, dapper soul man Aloe Blacc brought his set to a close with a charged live rendition of "I Need a Dollar", eliciting a vigorous call-and-response from the early afternoon (and thus still slightly asleep) crowd—no small feat for an artist at the top of the bill.
Favorite collective discovery:
A band previously known to many by name only and not by sound, by all accounts The Naked and Famous was the act that took the most people by storm. For a day already saturated in electro-pop rhythms and synth driven instrumentation, this New Zealand based band propelled their set with spirited vocals and garnered a new legion of fans as a result. That's a festival success story, if you ask me.
Biggest surprise, most improved:
Yacht delivered a fantastic surprise set to my ears, for I'd seen them a few years ago at a teeny club and was immediately struck by how much tighter and more refined their music sounded when given the room to explore; they really seemed to hit their stride sonically under that open festival sky. Included in their set was a cover of B-52's "Mesopotamia", an appropriately new wavey touch to Jona Bechtolt's dancey off-kilter pop music.
Most welcomed mathy moment:
For a day so loaded in poppy, peppy dance music, Battles broke it up to deliver a set that was much appreciated for those who wanted to come close and take in the band's angular rhythms and dynamic sound. Battles inspires a captivating watch, as all the musicians wail on their respective instruments, unleashing a torrent of noise that, even nine years after their inception and with the recent departure of founding member Tyondai Baxter, is urgent, relevant, and still undeniably compelling.
Most infectious performance:
By the time Dizzee Rascal took over the main stage by late afternoon, the vibe was fast becoming rapturous and people were ready to get down. The British DJ delivered the goods with warp speed rhymes and infectious beats, and literally brought nearly everyone to their feet.
Lost in island translation:
Despite being the critically acclaimed new project of Palaceer Lazaro (aka Ishmael Butler of Digable Planets legend) Shabazz Palaces didn't translate very well in this live festival setting and the audience seemed pretty disengaged. Don't miss an opportunity to catch the Sub Pop signed hip-hop group again, however, at a smaller venue or through the much heralded new album, Black Up—no doubt Lazaro is an innovative master of both music and words and marries both expertly.
The photographic golden hour:
The afternoon started off chilly, but by the time daylight waned the wind had died down and the skies parted to reveal gorgeous cloud-flecked heavens, inciting most everyone with a camera to snap photos of the San Francisco skyline and distant Golden Gate Bridge. The ambient crowd lighting and stunning Bliss Dancer statue with a twinkling Ferris wheel in the foreground set the stage for photo opps galore.
Most universally popular performances: *
Chromeo and Cut Copy tie to take the prize for inspiring the audience to dance around in wanton abandon. In an informal poll I conducted after the day's events, these were the two bands cited for the day's most prized performances. Consider them supremely adept in their respective live displays—these two bands know how to put on a show.
Hands-down most anticipated set:
With only one full-length studio release and disbanding before most fans got the chance to see them live, Death from Above 1979's unexpected reunion tour was one of the most anticipated of the summer and their inclusion on the TI bill brought many people to the isle that may not have otherwise gotten there. One of the most visceral bands of the dance-punk movement, their live show is an aggressive sonic assault; they're a must-witness live in terms of understanding what they're really all about.
Sunday
Best psychedelic Sunday jams:
It's hard to deny the awesomeness of Warpaint, the all-female quartet whose excellent debut release The Fool last year generated them scores of attention. Their stage show is hazy and psychedelic, with long guitar jams revealing a more unhinged and instinctive band than the production work on record may otherwise suggest. Loved.
Most impressive vocal display:
Wild Beasts have proven to be one of the most consistent bands of the last few years, releasing three exceptional glam infused albums replete with sexual, stunning vocals courtesy of Hayden Thorpe's falsetto range. The band sounds every bit as good live as they do on record, with their crystallized sound and urgent melodies emanating from the stage in all its theatrical glory.
Most idyllic moment of the weekend:
Could there be anything better than listening to Beach House under a twilight sky with hundreds of rapt music lovers by your side? Nope. Victoria Legrand's utterly bewitching vocals lit up the stage and her charming stage banter about the "weird faces in the crowd" broke the spellbinding nature of their set to bring everyone in for some laughs. Absolutely fantastic.
Most charged and inspiring set of rock 'n' roll:
I hope that everyone else got close enough to watch the face of Craig Finn while he kicked the ass of Treasure Island. I forgot how much the Hold Steady kills it live, and with Finn up there channeling the punkness of Elvis Costello and literate songwriting of John Danielle—all funneled through the swaggering momentum of heavyweights like Springsteen and the Replacements—made for the best rock 'n' roll of the weekend.
Most charming Americana pop:
The Head and the Heart are carving out a sound built on lovely folky melodies, full-bodied vocal harmonies, and a down-home graciousness that's endearing from start to finish. Their sparkling songs inspired among the crowd some waltzing duo dancing and smiles abounded—their sunshiney folk was a perfect complement to the sunshiney day.
Most effective moment of silence:
Silent Disco is fast becoming an institution at festivals around the country, and as the Bay Area was where this phenomenon was first bred, many attendees hit up the disco tent to strap on headphones and dance around to what seems like virtual silence to anyone who isn't dialed in. A ton of fun.
Set that sadly fell the flattest:
I love you, Stephen Malkmus. I really, really do. You can almost do no wrong. But your bored and condescending between-song banter alienated many listeners out there, and your set seemed uninspired and phoned in. I love you though. I really do.
Best display of light and sound:
Explosions in the Sky sound just as powerful under a festival night sky as they do in a low-lit little indoor venue. Their songs are open, soaring, and expansive, and for a band that's a dozen years into a prolific career, they just keep honing that sound to perfection. Their Sunday night set looked and sounded simply gorgeous.
Others Tagged With