A Day In The Life Of Grey Reverend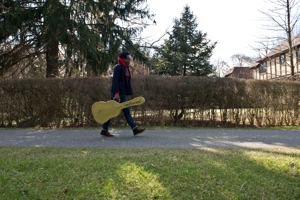 Photographer Doug Seymour has traveled with many different artists over the past several years. During these times, he has found himself behind the scene all too often—capturing moments with musicians not typically seen by the general public. A Day In The Life Of offers that view—photos taken during sound check, what it's like in a dressing room, candid moments backstage and more.
Check out Seymour's photos below as he spent two days with Grey Reverend (aka LD Brown) on Feb. 4-5, 2012. On Feb. 4, he performed at Burlap & Bean in Newtown Square, Pa. The following day, Grey Reverend was the in-studio guest at WXPN in Philadelphia during the "Folkadelphia" show, hosted by Fred Knittle. Grey Reverend is preparing his second solo release for fall 2012. Brown is also a current member of the band Cinematic Orchestra.
Others Tagged With