Savannah Stopover Preview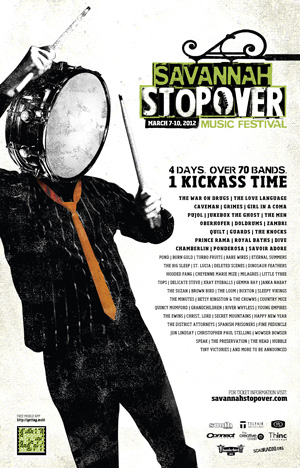 The second annual Savannah Stopover Festival, held on March 7-10, continues as a pre-party for East Coast bands heading West—a VIP green room before the March madness of SXSW. While most Austinites board up their windows and flee for higher ground, Savannahians open their doors and live up to their "hostess city" moniker. 83 bands will play over four days and the entire town turns into a venue—from museums to BBQ restaurants to historic gardens.
More of a Southern retreat than circus monkey chaos, Stopover's focus is on the musicians: bands stay with local residents—in beds, not on floors; they're treated to home-cooked meals and intimate after-parties, while schedules allow plenty of downtime for artists to have their own festival experience. For music fans, Stopover is about discovering emerging acts, and seeing bands that would normally play Atlanta or Charleston in their own backyard.
Festival organizers were selective about booking last year's acts again for this reason, preferring to give the fans a chance to discover new bands. But there are a few exceptions: Brooklyn-based bands Country Mice (the first band to sign on with the festival) and Oberhofer (the last act to leave town last year) are among the repeat offenders. Other highlights of this year's lineup include The War On Drugs, Grimes, Caveman, Prince Rama, The Love Language, Guards, PUJOL, and many more.
While growth is inevitable for any venture—the number of bands nearly doubled this year— Savannah Stopover is committed to staying focused on the festival's original themes. "We're really dedicated to quality over quantity and giving up-and-coming acts a chance to play this underserved market," explained festival CEO Kayne Lanahan. So while Austin anticipates the avalanche of traffic jams and human cattle herds, Savannah will be gearing up to give bands and fans a chance to slow down and smell the azaleas.
Others Tagged With