A Day In The Life Of Young The Giant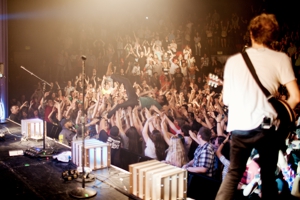 If one found themselves spending the day with California natives Young The Giant, it would be impossible not to notice how much the West Coast quintet loves their fans. The band stopped in Atlanta on March 15, 2012, with supporting act Grouplove and started the day with a meet-and-greet at Atlanta brewery Sweetwater. Awaiting them at Sweetwater was a slew of 99x concert winners who were fortunate enough to spend the day drinking beer and conversing with the band. While doing partaking in this event, the band soon discovered that none of the winners to the meet-and-greet had tickets to that nights upcoming show at Center Stage. In an extraordinarily nice gesture, the band proceeded to put all of the contest winners on the guest list for the upcoming night.
When it was finally time for Young The Giant to take the stage for the evening, a sold-out crowd at Atlanta's Center Stage awaited them. The band played a solid lineup of old songs, but also teased the audience with a few new songs that are rumored to come out on their next album. The crowd absolutely loved all the songs the band played—both old and new—and were left wanting more by this gracious California quintet. Throughout the night, Young The Giant's passion for their music and fans came through in nearly everything they did.
Others Tagged With