Bruce Springsteen Photos and Review - Atlanta, Ga.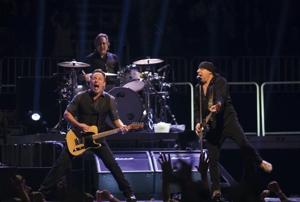 On the heels of his SXSW keynote speech and intimate performance at Austin's The Moody Theatre, Bruce Springsteen and the E Street Band kicked off their proper tour with a 24-song, 2-hour and 45-minute performance that celebrated their latest album Wrecking Ball and paid tribute to late E Street Band saxophonist Clarence Clemons.
The Asbury Park, N.J., rock group opened with "We Take Care of Our Own" and "Wrecking Ball," two tracks off his new album that set the tone for much of the show. Backed by a 16-person band, Springsteen heavily focused on cuts from Wrecking Ball, while mixing in enough of his classics to satisfy the sold-out crowd at Atlanta's Philips Arena.
Four songs into the set, Springsteen paid his first tribute to the late E Street saxophonist Clarence Clemons during an extended rendition of "My City of Ruins." The Boss ran through a roll call with the band, drawing a ravenous response in ode to The Big Man. The Boss slowed the song to a near halt, emphatically repeating to the crowd, "if you're here, and we're here, then they're here."
As Springsteen and the E Street Band made their way through their 24-song set, the band seemed to bring up their trademark energy a notch for the tour opener. The frontman lived up to his signature theatrics, squeezing every last bit of response from the crowd while spinning around the base of microphone stands, crowd surfing across a third of the arena and inviting every type of fan—both young and old— to relish in the experience of this show.
The bulk of his set included newer tracks, which received mixed responses. "Death To My Hometown" and "Shackled & Drawn" sounded impressive, while "Jack of All Trades," "American Land" and "We Are Alive" didn't pan out as well alongside his larger catalogue. Alongside these cuts, Springsteen enthralled the Atlanta audience with his staple songs, including "Badlands," "Dancing in the Dark," "Thunder Road" and "Born To Run." The band finished with "Tenth Avenue Freeze Out," offering one more nod to Clemons with a one-minute standing ovation in the middle of the song.
This was my first time seeing Bruce Springsteen and the E Street Band live; and despite all the expectations I had coming into the whole experience, I still remained captivated by how much went into this show. After coming off a week of watching all sorts of artists perform, it's night and day what this band does compared to many acts. It's why his live reputation precedes him, and why he was unanimously celebrated at this year's SXSW.
Others Tagged With