Coachella Day One - Recap and Photos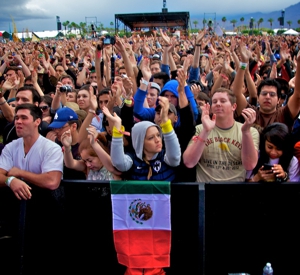 All photos by Chris Garmon
Coachella 2012 got off to a notably cool start on Friday. Heavy rain was predicted, but that never quite materialized beyond scattered drizzles. But the dark clouds and wind brought the temperature down the first day, a notable change for a weekend where staying hydrated is often as challenging as seeing all the bands you want to see.
Catching everything that looked interesting remained as vexing as a task as ever. An early afternoon clash between the expansive, heartfelt pop of Girls (the band played with help from three middle-aged backing singers, whose sassy hand motions felt odd but whose lovely coos helped make everything swoonier) and the violent, intimidating punk-rap of California's Death Grips, whose frontman Steffon had the eyes of a hardened murderer and the sense of humor to keep knocking massive inflatable balls back in to the audience. Headliners The Black Keys, peak instrumentals Explosions In The Sky and French pop-dreamers M83 all competed for late night audiences. The Black Keys looked confident; there's a certain swagger that comes with headlining one of these things after years on the mid-bill. Swagger is not a word one would use to describe notoriously shy M83 frontman Anthony Gonzalez, but by the end of the set, the crowd's jubilant response to songs from the recent Hurry Up, We're Dreaming helped him send the wordless chorus of "Reunion" over the top.
The day ended up belonging to two different reunions, Britpop institution Pulp and the surprising return of Swedish punks Refused. Pulps' Jarvis Cocker was all sly flirting, throwing grapes into the audience and humping amplifiers; while Refused' Dennis Lyxzen was a whirlwind of backflips, anti-capitalist asides and genuinely touching thanks to the audience for caring enough about a band "that broke up 14 years ago" to see them play. Considering how fiery and unhinged they sounded at the midnight hour, no thanks were necessary.
The Black Keys
The Rapture
Arctic Monkeys
Others Tagged With