Coachella Day Two - Recap and Photos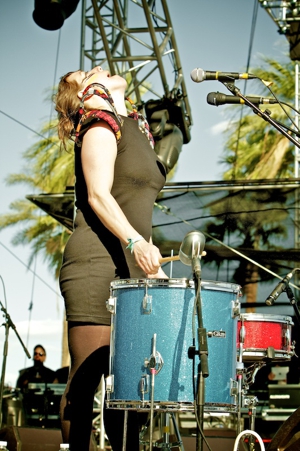 Page 1 of 2
All photos by Chris Garmon
Let's get this out of the way now. Yes, Radiohead were awesome. Obviously. For their return engagement at the Coachella Festival, the beloved band focused on new material "to prove we're still alive." So said Thom Yorke, who seemed to be having a good time, if the rapid head bops were any indication. Some of this new material hasn't been recorded it yet, like the thumping "Identikit," and some of it has already become hardcore fan favorites, like "The Daily Mail," a King of Limbs b-side that rises from a morose piano ballad to a discordant climax, garnered sing-a-longs from the dedicated audience. Radiohead is a relentlessly forward-thinking band, but they didn't rise to the level of repeat Coachella headliners without some pop instincts too. They peppered their set with audience favorites like "There There" and a stunning rendition of "Pyramid Song," before closing the entire night with "Paranoid Android." If you've never seen several thousand people scream along with "kicking squealing Gucci little piggies," you really should.
Bon Iver took the stage before Radiohead and sounded graceful and lush, even if he could stand to loose a third of the members and instruments he had with him. (things got a bit too lush at times). Elsewhere, British singer/songwriter Laura Marling's soulful folk songs were a fine soundtrack to the setting sun, Feist's percussion-heavy live show was startling and forceful, St. Vincent's crowd surfed and again proved she's probably the best working guitar player right now, Jeff Mangum lead multiple sing-a-longs and punk legends The Buzzcocks sounded so tight I won't even make any jokes about how old they looked.
Besides Radiohead, the day was probably won by tUnE-yArDs, where Merrill Garbus hand-looped her vocals and drums, slowly turning them in to wildly colorful blasts of confrontational funk before the audience's eyes. She alternated between a fierce determination to win over what she called the biggest crowd she had ever played and a palpable awe that this many people showed up.
Radiohead
Miike Snow
Feist
The Shins
St. Vincent
Others Tagged With