Nelsonville Music Festival 2012 Recap and Photos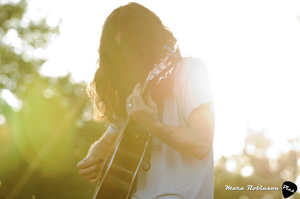 Photos by Mara Robinson
Nestled inside a historic cabin in the Hocking Hills region of Ohio, Southeast Engine bandmates/brothers Adam and Jesse Remnant stared out at a quaint but growing audience—most gracing small wooden benches or sitting atop an old rug from which clouds of dust rose at each foot stomp. With a nod to each other, they began an hour-long set of unplugged folk songs, weaving stories of Appalachian natives during the Depression with a delightful throwback vibe.
Such is many sets at the Nelsonville Music Festival, which celebrated its eighth incarnation last weekend. Having rolled out headliners such as Willie Nelson, Loretta Lynn and George Jones in years past, the mid-sized fest aims to please listeners young and old—as long as one doesn't mind a whole lot of folk and country with the occasional outlier genres.
Each evening, as the sun set over weary festivalgoers from all around, headliners Iron & Wine, Andrew Bird and M. Ward played career-spanning sets. Bird was perhaps the most impressive, dazzling with impeccably-timed loops and sing-song violin and whistling, performing mostly solo with the exception of set's end, when eclectic Chicago punk marching band Mucca Pazza filled out "Fitz and the Dizzyspells." And the normally stoic Ward was a ball of energy, a grin creeping across his face as he tore into original tunes and Buddy Holly's "Rave On."
Charles Bradley and His Extraordinaires showcased why he's such a hot commodity these days with a blistering, soulful set. He may not be doing the James Brown thing anymore, but the man might as well be the heir apparent to the Godfather of Soul despite his age, performing acrobatics unrivaled by any over the weekend. Former Jefferson Airplaner Jorma Kaukonen descended from nearby Fur Peace Ranch to kick out some bluesy jams, and Roky Erickson screeched his way through "Night of the Vampire," leaving newly-acquainted fans to wonder what could have been many years ago. Also in on the fun: Guided By Voices, Portland troubadour Michael Hurley, Sonic Youth's Lee Ranaldo, R. Ring (featuring The Breeders' Kelley Deal) and reggae legend Lee "Scratch" Perry.
As is custom with more intimate festivals, the spotlight shined on quite a few up-and-comers. Akron trio Shivering Timbers, whose 2010 debut was produced by Dan Auerbach, created beautiful dissonance in the form of guitar and upright bass, complementing Sarah Benn's haunting vocals. South Carolina duo Shovels & Rope won over the Sunday morning crowd with a blistering set of Americana jams. A delightfully quirky folk trio Hope for Agoldensummer cheered up a tired afternoon crowd with a cover of Aaliyah's "Are You That Somebody." Rising alt-country quintet Old Hundred fit in like a glove with pleasant harmonies, mandolin and a Neil Young cover.
Best of all was the fest's overall vibe. Aside from the nicest of volunteers and vendors, a bevy of recycling and composting stations highlighted NMF's green efforts.
"Now this is a festival done right," observed Bird. "Better than Coachella, that's for sure."
Others Tagged With