Cherokee Creek Music Festival 2012 Recap and Photos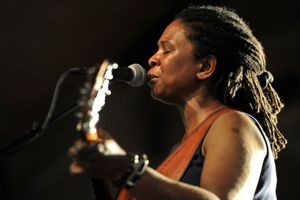 Thanks to the multitude of music festivals that widely vary in genre and size, fans can now pretty much customize their choices of events. In Austin, for example, one can experience the typical three-day mega concert like Austin City Limits Festival or one can spend a week club-hopping during SXSW and see unknown and unsigned bands alongside legends like Bruce Springsteen.
Then, there are the homegrown events like the Cherokee Creek Music Festival, just an hour's drive from Austin, where last year you could see and hear artists like Jackson Browne (with unexpected guest Don Henley), Keb' Mo' and Jack Ingram, or you could have seen this year's artists like Griffin House, Josh Ritter, Shawn Mullins, Brett Dennen, Amos Lee and Timothy B. Schmidt, another member of The Eagles. Located on what used to be an exotic game ranch, the event is definitely off the beaten path with the nearest hotels about a 30-minute drive away. That's why you'll find motor homes lined up on the property where less than 2,000 fans will spend a couple of days listening to more than a dozen artists in an outdoor pavilion just feet from a clear, spring-fed creek.
Festival founder and Fortune 500 CEO Kelcy Warren has always donated the proceeds from the fest to various children's charities such as St. Jude and the Ronald McDonald House and to a local children's home.
"I don't think people realize that he puts a lot of his own money into it," says Jimmy LaFave who with Warren owns Music Road Record, also performing every year. "He wants to do the benefit shows but he also wants to honor the musicians. So he doesn't believe in asking musicians to come out here and play for nothing. He'll quote lyrics eight songs down on a Josh Ritter record. He really knows music. That's why you have people like Jackson Browne and others saying 'Hey, I'd like to help.'"
Warren's sense of insightful hearing is why the festival has gained a reputation as an artist's gathering. It's also a place where the fans can get close to both the music and musicians.
"There are so many people I really, really like and really respect," says Sam Baker, who performed last year and showed up this year as a fan. "And to spend time with them and play music and laugh? From an artist's side it's great. The sound is impeccable. All these fans—I'll go out and just sit and talk with the people. I think it's beautifully designed both for the person who wants to listen and for the artist—aesthetic and practical, a good combination. When we walk through the picnic tables out there we'll see old friends everywhere catching up. Families. A lot of the artists are out in the crowd just talking to people. There's so little separation between everybody."
More notes from this year's Cherokee Creek Music Fest:
- "This is the summit of what a concert can be to us," Josh Ritter said of the festival.
- Ex-Drive By Trucker Jason Isbell performed this year with his 400 Unit band and was one of those artists who felt at home. "The crew did a great job. It sounded real good on stage. It was fun."
- Ben Taylor (James' and Carly's son) was at his best when he stayed away from the light guitar-style ballads like dad and played his personal brand of infective pop-rock-reggae.
- Timothy B. Schmidt brought a large band with soulful backup vocals and impressed all with his non-Eagles tunes, but still received the biggest ovations for the The Eagles' hits like "I Can't Tell You Why."
- Speaking of soul, Ruthie Foster continues to impress with the power of her voice and presence. She raved about Ike Stubblefield's performance on her new album Let It Burn. Stubblefield has played the Hammond B3 with everyone from Motown greats The Four Tops, Martha Reeves and The Temptations to Eric Clapton and Rod Stewart to Cee Lo. "Ike's all over this one," said Foster. "With B3 I can get my gospel sound in and I can get my blues sound in, and I kind of touch on that 60s sound like The Faces with Ian McLagan who was just inducted into the Rock and Rock Hall of Fame!"
- After one song Brett Dennen declared, "This is already better than we expected!"
Others Tagged With