Governors Ball 2012 Recap and Photos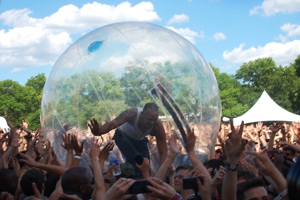 The folks who occupied Randalls Island over the weekend were hungry. Delirious for the serenity of an island, ticketholders of the second annual Governors Ball came ready to absorb the festival's impressive lineup and intimate setting.
Governors Ball occurred alongside Pride Weekend, complete with two stages dressed with spacious greenery. As festivalgoers headed across the East River, they soon found themselves immersed in the talents of Beck, Fiona Apple, Devendra Banhart and Modest Mouse and numerous impressive acts.
On Saturday, young music fans flooded the grounds wearing neon streams on their feet, heads and fingers—matching the day's electronica-focused lineup. Santigold performed songs off her second album, Master of My Make-Believe, much to the crowd's desire. Major Lazer followed with unoriginal-yet-entertaining hamster ball routine, while Passion Pit was gracious enough to share a glimpse of their forthcoming sophomore effort, Gossamer.
As the able bodies emerged from the woodwork for Sunday's lineup, the atmosphere took on the same kinetic energy found at other great music festivals. Alberta Cross opened Sunday on the Hype Machine Stage, kicking off their support tour for their forthcoming album, Songs of Patience. Phantogram filled their set with the synthesized sounds of their pedals and keyboards, capturing our attention with a 40-minute set that should put the band on many more people's radars. While Cults frontwoman Madeline Follin led the group through a set of their dream-pop escapism, it was the likes of Devendra Banhart that made me stop and take a deep breath.
Devendra Banhart has a certain aura about him. It's not a wreath of gold or a rainbow (though he might disagree) of mangled ringlets—it is incendiary hope that flows from his fingers to strings, diaphragm to tongue. The mystic child Banhart displays remains naturally, irrevocably devoted and poured into the universe he has created within The Charles C. Leary to What Will We Be. As he managed the stage with collaborator and friend Noah Georgeson, the two ignited a fire and silence within the crowd that was unmistakably reverent.
The sun went down as Fiona Apple floated onstage, with her chiseled face brooding, lips bleeding with lyrics from across her catalog. "Fast As You Can" opened the set, hypnotizing the expanding audience who showed reverent gratification for the eclectic songstress. At times, it appeared as if the crowd showed up for Fiona and Fiona alone. Explosions in the Sky followed up with their own sonic masterpiece of instrumental tracks, and Modest Mouse took their unabashed nihilistic catalogue into the grass where the crowd resided. It need not be said, but Modest Mouse, you were damn good.
Beck capped things off with his headlining slot, blasting through three decades of anti-folk genius well into the evening's eleventh hour. As quick as it came, Governors Ball began to close its gates, thanking fellow friends for their participation, love and creative excellence—bidding a final adieu.
Others Tagged With