Wakarusa 2012 Day Two Recap and Photos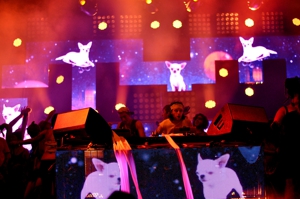 On the second day of Wakarusa, festival attendees had to bundle up unexpectedly when a cold front blew in and rain clouds settled over the festival grounds in Ozark, Ark. Fans were not deterred, however, donning ponchos, umbrellas and anything remotely passing for warm clothing. Freak-funk one-man band That 1 Guy drew a large afternoon crowd despite the weather with his homemade Magic Pipe and goofy songs like "The Moon is Disgusting," while Portland's Blitzen Trapper delivered some warm country sounds to the audience at the Revival Tent later in the evening.
Friday night's lineup showcased some of the hottest acts at the festival with a gauntlet of performances including Edward Sharpe & The Magnetic Zeros, The Avett Brothers and Girl Talk. Edward Sharpe frontman Alex Ebert sauntered around the stage and dipped into the crowd, singing the title track from the group's debut, Up from Below, after a false start of "40 Day Dream." When the band got around to retrying the song later in the set, it erupted into a sing-along. A remixed version of "Home" was another fan favorite with its opening lines name checking the festival's location. ("Alabama, Arkansas! I do love my Ma and Pa…")
The Avett Brothers put on an incredible show full of selections spanning their catalog, featuring "Shame" and "Laundry Room." The performance was full of energy as the brothers sang, shouted and stomped around the stage, along with cellist Joe Kwon who danced around—his bow fraying and his instrument rarely touching the ground. Several of the songs were introduced with "We learned this from Doc Watson," in tribute to the famous bluegrass legend who passed away on May 29. During the encore, the brothers gave a moving a cappella rendition of Watson's "Down in the Valley to Pray."
Girl Talk's late-night performance was the absolute definition of a party. Fans danced onstage as confetti and toilet paper showered the crowd, all to the beat of Gregg Gillis's killer mashup of hits from nearly every genre. The backdrop was covered with lights and screens that projected bizarre images of everything from skeletons and bleeding noses to flaming basketballs (during the "I wish I was a baller" section of a sample from Skee-Lo's "I Wish") and jack-o'-lanterns. The party continued on until sunrise with sets from electronic-infused acts like Ghostland Observatory and MiMOSA closing out the night.
Others Tagged With