Pitchfork Music Festival 2012 - Day One Recap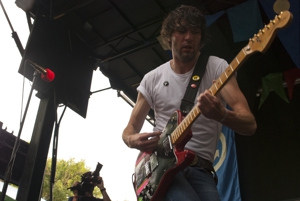 "Lot of people like to sing normal songs at festivals," Willis Earl Beal told the crowd during his Friday afternoon performance at Pitchfork Music Festival. On the other hand, "Lot of people like to hear weird shit." Beal's set was decidedly on the weird side. Vacillating between angelic R&B crooning and Waitsian grumbling, Beal occupied the stage alone, accompanied only by a reel-to-reel tape machine that played the dramatic back-up to his earnest performance as clouds gathered over Union Park. It's a bizarre experience, especially since Beal is dressed like a cross between The Boss, MJ and Yeezy—fingerless gloves, Born To Run-era jeans with a Texas-sized belt buckle, big, dark sunglasses and a boxy '90s haircut—but he sings and waves his mic stand around with such gusto that he's hard not to like. With his moody accompaniments and tortured artist persona, it was easy to imagine that Beal had conjured the coming rain with his music.
The clouds, however, had another target in mind. Shortly after Beal's set, substance-loving hip-hop artist A$AP Rocky and his crew waded through small onstage puddles on the other side of the fairgrounds. In spite of the nasty weather, a big crowd waved their arms and billowed copious amounts of smoke to the music's gun-wielding sound effects. But it's tough to stay excited about even the best musicians when you're getting drenched, and as the crowd's energy waned, Rocky did his best to keep spirits high. The group of men onstage seemed to grow with every song, leading the crowd by example with their dancing and joining Rocky in increasingly frequent chants of "A$AP! A$AP A-fucking-$AP!" As the set wound down, a fight broke out near the stage's edge, and even Rocky walked away looking a bit tuckered out.
Vancouver two-piece Japandroids fared a little better. "I think the sun is coming out. Everything's gonna be alright," guitarist/singer Brian King told the crowd as he and drummer/singer David Prowse took the stage. Theirs was a tight, hair-tossing and well-attended performance, replete with airborne water bottles and sing-alongs.
But Japandroids had nothing on Dirty Projectors, whose fans were the most engaged of the day by far. Singer/guitarist Amber Coffman impressed with her incredible range, and alongside Haley Dekle and David Longstreth, the trio executed difficult three-part harmonies with perfection. Lead singer Longstreth was all smiles as he and the rest of the band treated the crowd to a handful of songs from their latest release, Swing Lo Magellan, which came out last Tuesday.
Feist rounded out the day, beginning her set with a nod to Dirty Projectors: "They made all of us glow." But the Canadian singer/songwriter is no slouch herself. After warming up those in attendance with an old favorite, "My Moon My Man," she proceeded with a foot-stomping set. As the stage lights swept over her white dress, she appeared to glow in the fading twilight, easing fans off into the night to rest up and prepare to do it all again on Saturday.
Others Tagged With