Pitchfork Music Festival 2012 - Day Three Recap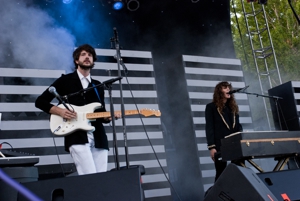 The dance vibes of yesterday melted into Sunday's collection of hard-hitting rock and hip-hop. Unknown Mortal Orchestra eased everyone into things, kicking off the day with some mild psychedelia. The clouds from earlier in the weekend finally cleared out, sending many festivalgoers under the shade of a few trees on the outskirts of Union Park.
Thee Oh Sees were next, bursting out of the gate with raucous energy and tasty riffs. Lars Finberg's tambourine waved wildly overhead like a deranged fan. Bandleader John Dwyer was all confidence and charisma, admonishing the crowd to "stay hydrated, goddamit!" and trying in vain to shout out pals The Men, who were playing on the other side of the fairgrounds.
Across the park, Dwyer's pal Ty Segall tore through his large collection of garage rock, taking a moment a few songs in to rope the crowd into summoning Thee Oh Sees' leading man. As he counted, "One… two… three… DWYER!!!," his friend slipped quietly through the VIP entrance to the left of the stage. He'd only hollered for his pal twice when Dwyer appeared in his view, inspiring a stunned, thrilled "Holy shit, YEAH!" from Segall. Energized by his friend's presence, Segall launched into a cover of ACDC's "Dirty Deeds Done Dirt Cheap" (which he covered twice at an after party the night before), accompanied by a chorus of "Oy's!" from the crowd.
Real Estate helped everyone mellow out for the afternoon with a spot-on performance, consistently replicating the simple but compelling riffs from Days and their self-titled debut. Chavez put on an air guitar-worthy performance of post-hardcore on the Red Stage, showing they've still got it nearly a decade after they formed. Theirs was one of the moodier sets at a festival populated by clubby rap acts and synth-loving bands like headliner Beach House. Dark, distorted and wailing, Chavez stood out from the pack.
A dense crowd formed in anticipation of Beach House at the Red Stage as AraabMuzik tapped out frenetic beats on a tiny drum pad next door at the Green Stage. A sea of arms waved up and down to the music as the bodies they were attached to writhed in a sweaty mess of dancers.
Beach House was the highlight of the day, treating fans to some old favorites ("Gila," "Norway") before rounding out their set with a smattering of songs from their 2012 release, Bloom. Singer Victoria LeGrand dressed to fit the retro mood of the music in a boxy black blazer as she harmonized with guitarist Alex Scally in her signature husky alto. With their warbling synth, smoke machine haze and backdrop of slowly spinning, industrial-looking fans, it was easy to imagine they'd wandered onstage from a time machine sent from the '80s.
Vampire Weekend closed the festival with a colorfully-lit collection of old favorites ("A-Punk," "Oxford Comma") and newer material. Attendees trickled out as their set wound down, heading to after parties, home, the airport, but a crowd of hardcore fans stuck around, chanting "One more song!" The weekend of sweat-stained t-shirts, ear plugs and blissful sing-alongs passed quickly, but 2013's Pitchfork fest will be here before we know it.
Others Tagged With