Pitchfork Music Festival 2012 - Day Two Recap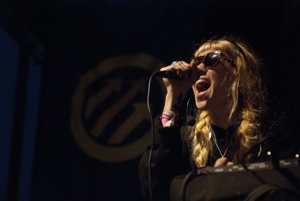 The crowds arrived at day two of 2012's Pitchfork Music Festival well rested and energetic, kicking off the day with a tangled mosh pit alongside Cleveland power-pop quartet Cloud Nothings' tight and vigorous performance. The day was cool and the clouds rolled in early, sending plenty of folks running for shelter under trees, tents and umbrellas. Die-hard fans donned translucent ponchos or continued rocking out in the elements, and within an hour a good many people were speckled with dark brown mud.
Atlas Sound's Bradfox Cox was unfazed. Kicking off his set as the storm tapered to a drizzle, Cox took the stage in a straw hat with his face completely smeared in white paint (or was it sunscreen?). The ghostly look was fitting for the hollow, haunting loops of tracks like "Te Amo." Cox has come a long way since his days of bullying fellow members of Deerhunter onstage and now banters with the crowd with a casual charisma. "Don't give her cold water; give her room temperature water," he advised a medic assisting a woozy concertgoer. "That was a little something I learned in Boy Scouts before they kicked me out for being queer."
Next up was Cults, who opened with the savory first track from last year's self-titled debut, "Abducted." However, frontwoman Madeline Follin's nervousness was palpable (and audible—her voice quavered throughout much of the performance), and the group failed to reach the highs they captured in the studio.
Steve Ellison, a.k.a. Flying Lotus, did his best to pick up the pace with his DJ set. Though "an inch nervous" when he took the stage, Ellison spent most of the time with a big grin plastered on his face, spinning Weezy and Watch the Throne alongside more esoteric material. Picking up on the crowd's need to shake off the rain with a down and dirty time, he upped the ante with heavy, whomping bass and the Beastie Boys' "Intergalactic."
Wild Flag kept spirits high with a kick-ass set, starting with a cover of Television's "See No Evil." It's easy to see why this band's debut is chock full of songs about how much fun it is to make music—these ladies command the stage with their presence and musicianship, and it's clear they have a great time doing it.
Perhaps the best show of the day came from Sleigh Bells, who whipped fans into a pulsing, jumping, fist-pumping mob. Singer Alexis Krauss owned the stage, dancing every which way and working the crowd. Everyone seemed to be getting involved, shouting Krauss's cutesy, cheerleader-esque "uh's" and simple lyrics back at her as Derek Edward Miller pummeled them with his guitar.
Hot Chip puttered through what felt like a long set, winding down the energy of the frenzied afternoon as Godspeed You! Black Emperor set up next door. Those still inclined to dance moseyed over to catch Grimes, while a whole lot of wobbly dudes with droopy eyelids shifted around to Godspeed's droning, winding post-rock. As everyone shuffled home for the night, mud-caked shoes abounded. The Green Line train was packed with sun-kissed young folks with the glow of a day of dancing and singing still on them, some of them already working out who they planned to catch tomorrow.
Others Tagged With