Lollapalooza 2012 - Day One Recap and Photos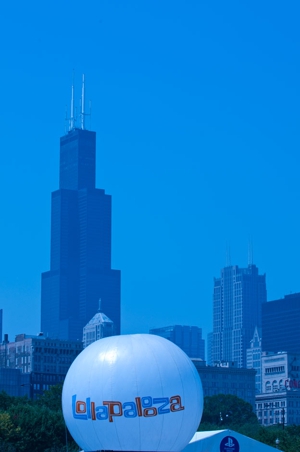 Threats of thunderstorms proved nothing more than empty words as thousands of people descended on Chicago's Grant Park for the first day of Lollapalooza. Now in its eighth year located in the heart of the Windy City, the three-day, eight-stage goliath of a music festival only seems to have gotten bigger and more overwhelming with each passing year. With 130 bands and 100,000 attendees expected each of the three days, those looking for a more relaxing musical experience might want to sit this one out.
This year, festival organizers C3 Presents seem to have spared no expense to ensure the grounds were secure and gate-crasher proof—something that's been a problem in the past. Additional fencing and barricades greet attendees as they enter through the main entrance, which has three security checkpoints. Organizers say they've also brought in more guards and lined more of the festival perimeter with so-called "black fence," the same 10-foot high barricades the government used when Chicago hosted the NATO summit a little more than two months ago.
If there were any lingering questions about electronic music's ever-growing popularity, those doubts would have been drubbed by the crushing bass emanating from the behemoth that is now Perry Farrell's dance stage. What once was a small bandstand in the middle of Grant Park that catered to a niche audience is now a monstrous LED-screen adorned DJ stand and non-stop rave.
Singer/songwriter and first-time Lollapalooza performer Sharon Van Etten took over the Playstation stage in the early afternoon on Friday. Following hard rockers The Black Angels, Van Etten and her crew slowed things down—a welcome tempo change given the sweltering temperatures. After a heavy touring schedule so far this year, the former acoustic frontwoman now seems more comfortable playing with her band, commanding it with ease. Her festival set stuck almost exclusively to acclaimed recent release, Tramp, with the charming songstress breezing through singles "Serpents" and "Give Out" as the crowd swayed along.
Over on the Google Play stage, British outfit SBTRKT got a little bit of a late start, but had no troubles taming what was becoming a restless crowd. After a lengthy intro that further cut into their already abbreviated set, the masked duo led by Aaron Jerome got everyone bouncing with "Never, Never" and "Hold On."
M83 followed long-time indie darlings The Shins, who played a crowd-pleasing show featuring many of their notable hits. Sound issues seemed to hamper what was otherwise an energetic performance from the French electro-ambient group. Frontman Anthony Gonzalez and back-up vocalist Morgan Kibby were lost in the bass and synth instrumentation, but the group was able to reign in the crowd's waning attention with their hit "Midnight City."
When it came to Friday's nightcaps, festivalgoers had a smorgasbord of options, each of which seemed to cater to factions of Lollapalooza's increasingly diverse audience. Teenage festivalgoers mostly flocked to Perry's for elector/dubstep DJ Bassnectar. Meanwhile, twenty-somethings split between rockers The Black Keys and Nigerian rapper Wale, and aging attendees assembled in mass for '70s heavy-metal icons Black Sabbath—minus original drummer Bill Ward. An example characteristic of the latter crowd: one woman in attendance used her right hand to rock out to "War Pigs" and her left to hold her baby. Don't worry, the baby was wearing what looked like sturdy earmuffs.
At age 63, Ozzy Osbourne still manages to command a sizeable audience, but one that's smaller than what the aging rocker used to draw in his bat-decapitating heyday. Ozzy's cries of "I can't f****** here you!" were met with what can only be described as a lackluster response to one of the biggest names in rock music. Still, Osbourne was drenched in sweat as he rolled his way through a nearly two hour set that included hits "Iron Man" and "Paranoid." Neither were the inaudible mumblings featured so frequently on the early 2000s MTV reality show "The Osbournes"—characteristic of the aging rockers stage presence. A close-up look at guitarist Tony Iommi and bassist Geezer Butler revealed the equally-aged musicians haven't lost any of their ability to shred.
As for the performance of the day, that honor goes to South African hip-hop outfit Die Antwoord. The always-entertaining and ever-intriguing rap-rave trio seemed completely unphased by the oppressive 90-degree weather. Rapper Ninja and the pixie-voiced Yo-Landi Vi$er bounced and gyrated on stage with what seemed like endless energy while DJ Hi-Tek spun ear-splitting beats that had nearly the whole crowd—not just a small group in the front—swaying along with their arms in the air. With songs such as "I Fink U Freeky" and "XP€N$IV $H1T," the Playstation stage turned into a massive dance party.
Be sure to check back here tomorrow for a recap of day two and check out Josh Darr's photos below.
Others Tagged With