Lollapalooza 2012 - Day Two Recap and Photos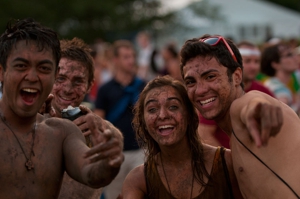 Saturday at Lollapalooza was one for the history books, thanks to a massive storm front that forced festival organizers to temporarily evacuate Grant Park. We'll spare you the terrible Washed Out puns (whose set was not, as it were, washed out), but the unprecedented move to clear the park forced set cancellations and hordes into the downtown streets to seek shelter from a particularly nasty downpour.
The day kicked off with predictions of stifling weather and the chance of thunderstorms later in the day. Soul revival outfit (and Paste favorites) J.C. Brooks & the Uptown Sound serenaded crowds on the park's south end, while Chief Keef invited what appeared to be all of his friends onto Perry's stage to bore the audience with a never-ending list of things he "Don't Like."
But by 3 p.m., an odd energy started to fall over the crowd. Threats of severe thunderstorms had everyone on alert and glued to their phone—which proved pointless due to the festival's notoriously unreliable service—as ominous storm clouds began to roll in across the skyscrapers from the west.
The announcement to evacuate came 20 minutes into Neon Indian's set at the Sony stage. Lead singer Alan Palomo unexpectedly chimed, "apparently, we have to walk offstage in 10 minutes, so let's make it count," before jumping immediately into the group's new hit song "Polish Girl." As Neon Indian pulled their equipment down, a representative from festival promoter C3 Presents took the mic to say a "potentially dangerous storm was headed to the Chicago area," and that the park needed to be cleared.
What ensued wasn't by any means pandemonium, but it certainly wasn't the smooth evacuation the promoters want you to believe happened. Side exits to the park were closed off, and the estimated 60,000 attendees were funneled toward the center of the festival grounds. Hordes of festivalgoers bottlenecked as they moved toward the backed-up exits—in an ironic twist, some tried scaling the fences to get out faster. On the other side, floods of people poured into the busy intersections that line the area, snarling traffic.
As for where the masses went, some returned home and to hotels. Others sought shelter in the local bars and restaurants, while a select few reveled in the hour-long torrential downpour. An email alert from festival promoter C3 Presents stated attendees were "being directed by staff and the Chicago Police Department to pre-established underground evacuation and shelter sites along Michigan Avenue," but that didn't seem to be the case. When asked, a number of security guards and emergency personnel were unaware of these "established evacuation centers," and instead were merely directing people to "leave." Give credit where credit is due, though: the city and organizers made the right call to evacuate the festival, and by doing so early—before the rain started falling—they avoided mass panic and what could have been a very dangerous situation.
Two and a half hours later, the festival was back up and running. Some sets were canceled—including Alabama Shakes, B.O.B., The Temper Trap and Chairlift. Others were moved back to 6:30 p.m., and festival hours were extended to 10:45 p.m. to accommodate for the time crunch.
The Weeknd helped get the crowd back into the music with a phenomenal performance on the Red Bull stage. Abel Tesfaye enchanting falsetto was captivating and lost none of its power in the outdoor setting as the crowd, which continued to grow as fans trickled back into the park, swayed along to the "The Morning" and "High For This."
Top 40 DJ/producer Calvin Harris followed, and proceeded to get the masses moving over on Perry's stage, as masses of teenagers decked out in neon raved along to mega-hits "Feel So Close," "Bounce" and "We Found Love." Though the set was a crowd pleaser, there was something almost terrifying about how Harris controlled so many people from his DJ pod in the middle of the stage. He was almost like an invisible puppet master, or as though he'd hypnotized thousands with the help of entrancing LED screens—a massive smoke machine and commands to "bounce."
The performance of the day, though, goes to soul-crooner Frank Ocean, who closed down Saturday night alongside the Red Hot Chili Peppers, Santigold and Swedish DJ Avicii. Ocean's evocative, patient and romantic performance defied the monstrous music festival status quo, creating an intimate, almost jazz-club like setting among the smaller crowd convened at the Google Play stage. Performing with a live band, Ocean opened with an acoustic cover of Sade's "By Your Side," a stark contrast to the ear-splitting bass emanating from the neighboring stages, and a welcome one at that. He then moved back and forth between songs from his acclaimed new album, Channel Orange, and his previous mixtape release, Nostalgia, Ultra. HIs beguiling voice swept along through tracks "Thinkin' Bout You" and "Strawberry Swing," making his set a perfect end to a rather stressful day.
Be sure to check back here tomorrow for a recap of day three and check out Josh Darr's photos below. To read about Friday at Lollapalooza, click here.
Others Tagged With