Pickathon 2012 - Recap and Photos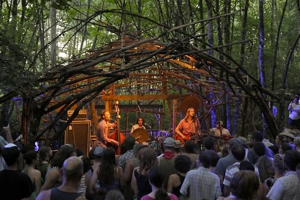 Check out Ken Anderson photos below the recap
Let me just start by saying that I've been to a few Dead shows in my day. Those days are behind me by a couple decades at this point, but I felt a familiar sense of 'event' that goes beyond the music while approaching Pickathon, the three-day roots and alternative music festival set on a farm just outside of Portland, Ore. The sea of tents in the parking lot coupled with the overall vibe that permeates the premises. It's a refreshing throwback to what those early Dead shows might have been. I'm not talking about the drugs, though there's no shortage of pungent clouds floating through the air here, but rather a calm and even tranquil ambiance of enjoyment. There is no heated rush toward the front of any stage. It's too hot for that anyway with temperatures regularly hovering around 100 degrees. There is rather a relaxed strolling that goes from one area to another on this bucolic Oregon farm. The set times are staggered in such a manner that there is little down time between bands, but plenty of time to make your way to a nearby stage to catch whatever might be on next. A fluid attitude toward seeing bands is the best approach. For every band you've heard of, there are a similar number you haven't that are worthy of checking out.
Friday
The grounds are subdivided into six performance areas ranging from main stages set at the bottom of a rolling lawn covered by canvas shades arranged in intricate geometric designs worthy of a spectrograph, to a couple of barns and most spectacular, the Woods stage, set several hundred yards into a forested glade. Hay bales provide seating and the band sets up on a wooden stage covered by branches. It's practically mystical in its preciousness. Most bands play twice and it's a great treat to see bigger acts in this venue. This is where I started on Friday afternoon after setting up camp among the trees. Danny Paisley and the Southern Grass' classic bluegrass served as an excellent introduction. A multi-generational ensemble with 11-year-old Ryan Paisley holding down the mandolin seat with aplomb supplied both picking and grinning to an appreciative crowd.
Sliding over to the Fir Meadow Stage, White Denim provided a contrasting avant-prog rock flavor. It is this combination of the old and the new that makes the festival work, keeping it from being too much of a hippie country music fest and maintaining a relatively current persona. For some this can be confusing, but if you don't like a band, it's easy enough to wait them out or find the next stage, often only a few minutes walk away. After White Denim's set, Whitey Morgan and the 78's lit into an electric set of classic honky tonk a la Hank II and Waylon Jennings. For this genre, they're the real deal. They're not interlopers—they look, live and breath the stuff and it shows in their beards, leather vests, worn dungarees and generous waistlines. Whitey's guitar playing was hit or miss on his solos, ranging between sharp-edged and sloppy.
Back at the Woods stage, the dust was becoming an issue. Bandanas had been handed out and there were no shortage of masked aficionados amongst the increasing visible number of children frolicking like forest nymphs in the haze. The Bowerbirds got off to a tough start. Early on they sounded like any other indie-folk outfit, but as their set progressed, every song improved becoming increasingly lush and magisterial. When guitarist/singer Philip Moore switched to electric, the band responded with a magical energy. The drumming became more polyrhythmic, the harmonies more inspired and the sound and the environment merged to capture that elusive element that draws us all toward art where we are taken, mentally transported to a momentary place that is as fleeting as it is rare.
Blitzen Trapper followed. They spent too long dialing in their sound in front of an eager audience but then finally launched into a set that straddled southern-fried, dual-guitar blitzes and more nuanced, acoustic numbers. Singer Eric Early sings with the voice of an older man, not unlike John Prine. This is highlighted by the acoustic guitar but overshadowed with the My-Morning-Jacket-meets-Black Crowes guitar freak outs.
It's rock 'o' clock now, time for some down and dirty garage rock and Thee Oh Sees oblige perfectly in the Galaxy Barn. The venue is a steamy old Western barn planted in the middle of the farm. The sound is tremendous and the band and the audience shoot bolts of rock 'n' roll electricity back and forth in increasing blasts for their entire set of tranced-out surf and psych rock.
Outside on the Starlight Stage, The Barr Brothers have a crowd enthralled with a mix of folk and Delta blues, that at times falls into Blues Hammer territory while at others dips into world influences—specifically Malian and west African improvisation spurred by the interplay between the guitarist and the harpist, of all things. At the Galaxy Barn, the Cave Singers drew a crowd of young girls to the front of the stage who undulated in time, pursing their lips and moving their hips for this rag-tag bunch of misfits who look like the worst hippie cover band you've ever seen with their tie-dyed shirts and bouncy swamp jams. I can't quite figure out what the attraction is here, but the people love it.
Saturday
On the Mountain View stage, Bowerbirds recreate their set from the night before. It's a larger venue and less intimate than the woods, but it's still great. They're followed by a somewhat cornball, old-timey jazz and ragtime duo called The Two Man Gentlemen Band. There was kazoo involved. And bad one-liners.
In the Workshop Barn, Laura Gibson leads her band through a session of musical chairs as they switch instruments for each song. They alternate between bass, lap steel, piano, nylon string acoustic, trumpet, drums and guitar for the simple arrangements that manage to elicit a perfect amount of texture for Gibson's' rich and full vocals to cover. She closes with an a capella number relying on audience participation. It could've been cheesy, but instead was a delicate moment highlighting the connection between artist and audience that seems to be one of the festivals trademarks.
Thee Oh Sees get an outside set on the big stage on this particular afternoon. While their space-age surf is probably better suited to the confines of a sweaty barn, they still manage to bring the house down with their infectious energy and guitarist John Dwyer, the undisputed shredder of the festival.
Over at the Galaxy Barn, Portlanders Y La Bamba display their blend of Southwestern-infused folk. With arrangements highlighting their sense of dynamics and four-part harmonies they brought the packed room of seated twee kids to their feet. Singer Luz Elena Mendoza is gifted with an innate charisma that translates perfectly into the band's sound, like the musical representation of La Madre de Guadalupe.
After the almost mystical intimacy of that show, Langhorne Slim brings a welcome enthusiasm for overt performance. His energy serves as an infectious model for the audience, which responds in kind to his raw-throated singing and exuberant dancing over his distorted acoustic guitar, pounding out good time rock 'n' roll. Having done his part to bring the audience to life, he takes it to the next level on the last song, the gospel anthem, "Past Lives." Taking his mic into the audience, he proved he's a showman from a long tradition going back to Baptist ministers and poured his soul out in sacrifice. It was a transcendent moment.
Bombino, a group from the Taureg region of North Africa took to the Mountain View stage in shiny Bedouin outfits, establishing a driving, repetitive afro-beat groove. It was a welcome change from the Americana that dominated the weekend affair. Bombino uses tasteful, minimalistic guitar soloing on North African scales and melodies while his band lays down a heavy trance-like groove.
All of that paled in comparison to Neko Case, who proved to be the highlight tonight. Despite running an hour late before starting, she pronounces upon taking the stage, "This is the most amazing place I've ever played a show." It's a common sentiment for the musicians who play this particular venue. Having a thousand people appear in the woods to see you play clearly has a humbling effect. There doesn't seem to be anything else like it. Case sings in her plaintive, uplifting manner with her voice that seems so perfectly suited to her sound. It's got a timeless quality to it, as though she's been on records for decades. Her voice is strong and confident and pure in pitch and tone. It demands central attraction status without much effort, abetted by her melodic sensibilities and narrative skill for character and song.
Back at the Mountain View stage, Dr. Dog was bringing it all back home with a huge set of power indie anthems. While it can be fun to name-check their influences on each song, live, their energy and the lush effect of the instrumentation worked perfectly to reach to the very back of the audience.
White Denim took their second slot in the Galaxy Barn. I didn't like them the day before when they played outside, finding it too spastic, but in the setting of a club and at the end of the night, they were the perfect antidote to the folksiness of the day. Launching off with scorching proto-metal prog riffage that slammed into a free jazz odyssey, they were downright awesome. With regular changes to time signature and feel, harmonized guitar leads and excessive volume, combining the heaviness of Sabbath with the intricacies of Yes. The bassist looks like a cross between Buddy Holly and one of the Jonas Brothers. They are the tightest band I've seen in ages.
Sunday
The War On Drugs played a daytime set that might not be their strong suit. While their guitar-chimed wall of sound and reverb-drenched vocals were pleasant enough, it lacked any sense of urgency. The band performed as if they were alone rather than in front of a thousand people reclining on the lawn. That is to say, they played, but didn't perform. Alela Diane delivered a solid performance on the Woods stage but her inter-song banter was more a series of complaints than communication. "It's too hot out here," "I just stayed home and read a book yesterday," "Are some of you really staying until the end tonight?," "You're more hardcore than me…"
Seattle hip-hop duo THEESatisfaction was the sexiest and most danceable act in the festival. Their lips pursed in alluring cool, their synchronized dance steps were casual yet still brimmed with charisma. Lyrically they explored everything from hetero to homo to bi-sexual relations. The beats and music harkened back to hip hop's golden age in the '90s.
One thing that is a bit too easy to notice about Pickathon is the lack of diversity. There were likely more non-Caucasian performers than audience members, which isn't saying much. The organizers should include more international artists and artists of color. Of the few included, The Sierra Leone Refugee All Stars, Bombino, Los Cojolites, The Hot 8 Brass Band and a couple others broke up the monotony of alt-country, folk, indie and Americana. Other than that, Pickathon freaking ruled.
Others Tagged With