Counterpoint Festival - Day 1 Recap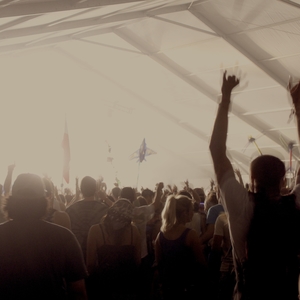 I'd like to think I would know what to expect driving up to a weekend-long camping festival, but my assumptions about Counterpoint were out the window with the six neon ballerinas who climbed out of the tiny sedan in front of me as I drove up to the festival grounds Thursday evening.
Glowsticks and garments aside, there were two different stages playing music for the fest's opening night, with sets from Abakus and Stokeswood leading off the party before the sun even went down. Although there was plenty going on around the festival grounds, I found myself staking out the Beats tent, where I would catch the always original musical juxtapositions of Beats Antique and, later, Big Gigantic.
By the time Beats Antique took the stage around nine, the crowd was anxiously pushing their way to see the act. Homemade signs, interspersed amongst the giant jellyfish and inflatable toys held up by the masses, ranged from the seemingly personal "I CARRIED U 2 THE BAR IN PHILLY" to the more universal "We trippy." The performance itself was distinctive as well, featuring belly dancer and musician Zoe Jakes making an entrance as the band kicked off.
After the set from Beats Antique, the energy in the tent hit an all time high. For the first time in the night, the festival's proximity to Atlanta revealed itself as the attendees banded together for a the tomahawk chop, which led into a steady cry for "Big G" to take the stage.
Producer and sax player Dominic Lalli's unique paring of electronic sounds with his classically impressive saxophone didn't disappoint, and fans were as loud as they'd been all night. Although the festival-goers
may not have been easing into the weekend, Big Gigantic's agreeable sound was great way to transition from real life into the electronic fantasy this weekend will surely create.
For better or for worse, Counterpoint Festival has descended upon rural Georgia in a flurry of hoola hoops, spirit hoods, furry pants and in some cases no pants at all. If this is the starting point, I can only imagine what the rest of the weekend will hold.
Others Tagged With